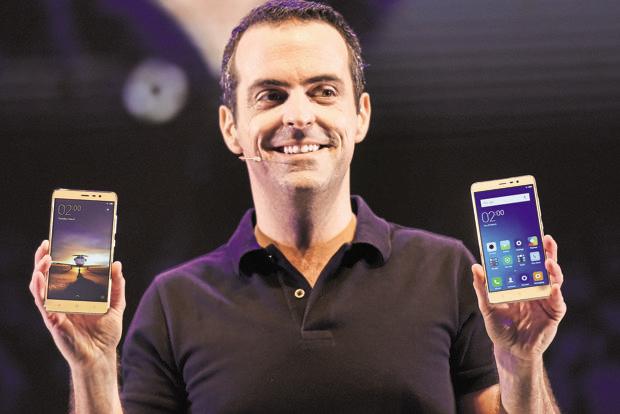 Xiaomi Technology India Pvt. Ltd, the local unit of China's biggest mobile phone maker, said on Thursday that the company is ramping up its manufacturing plans rapidly and that 75% of the phones it sells in India are already being made locally.
In August, Xiaomi together with Taiwanese contract manufacturer Foxconn Technology Group started assembling phones locally in Chittoor district of Andhra Pradesh.
"We are ramping up our manufacturing in India for our latest product Redmi Note 3 and this is our fourth 'made in India' product," said Hugo Barra, vice-president Xiaomi.
The company is setting up a manufacturing capacity of about 200,000 Redmi Note 3 in the first month.
Xiaomi on Thursday launched Redmi Note 3 at a price of Rs.9,999. The company already makes Redmi 2 Prime, Redmi 2 and Redmi Note Prime in India.
Though the company wants to increase its manufacturing in India and eventually export phones from India to other international markets, it said that touching a 100% local manufacturing number would not be economically viable.
"It might not be economically viable to manufacture very high end products here but for high-volume products the intention is to have 100% manufacturing here in India," added Barra. "We want to find the most economic way and manufacturing locally makes our supply chain much more efficient."
According to Barra, the company has managed to cut cost of production with its local manufacturing plant. He did not disclose the financial details.
"It is cost efficient as it reduces our working capital costs… when we import phones there is a 4-5 weeks of lead time to order the goods is 4-5 weeks. Manufacturing locally brings it down to two weeks. Also, there are tax benefits provided by the states," said Manu Jain, India operations head at Xiaomi.
To be sure, most handset manufacturers only assemble the phones locally instead of complete manufacturing because of lack of component makers in the country.
However, according to Jain the company is seeing a lot of interest from component makers to set up their facilities in India. "we are already meeting a lot of component makers, who are keen to set up their shop in India," said Jain. "…our core belief is that over a period of time, a large number of component makers will set up plants in India and we will go beyond just assembly."
Jain refused to disclose the name of component makers eyeing India.
Xiaomi, which counts India as its second largest market after China, is known for offering smartphones at competitive prices by selling directly to consumers via online marketplaces with minimal marketing spending.
On concerns over Xiaomi's unsustainable valuation and slower growth in global markets, Barra said, "Our market valuation is what we raised our last round at and if we were to raise more money today which we don't need to… but I can guarantee you that we will raise at a higher valuation than that the last one."
"When you are growing at the speed of startup… you cannot expect the growth to be same on a percentage basis. It is impossible," he added.
The company claims to be growing at 40-45% on an annualised basis in India. Barra also said that there were no plans of an initial public offering in the foreseeable future as the company is profitable and has sufficient money to fund inorganic growth.
"Last year, we raised about $1.1 billion as an investment horsepower, which means we wanted to have more money to invest in other companies (for instance content companies), rather than funding operations because they remain profitable. We closed 2015 as our second year of being number one in China and we continue to grow in India where we are in top three online brands."
The company continues to grow its product line and claims to be a market leader in television in China. Xiaomi is expected to launch its televisions and air purifiers in India this year.