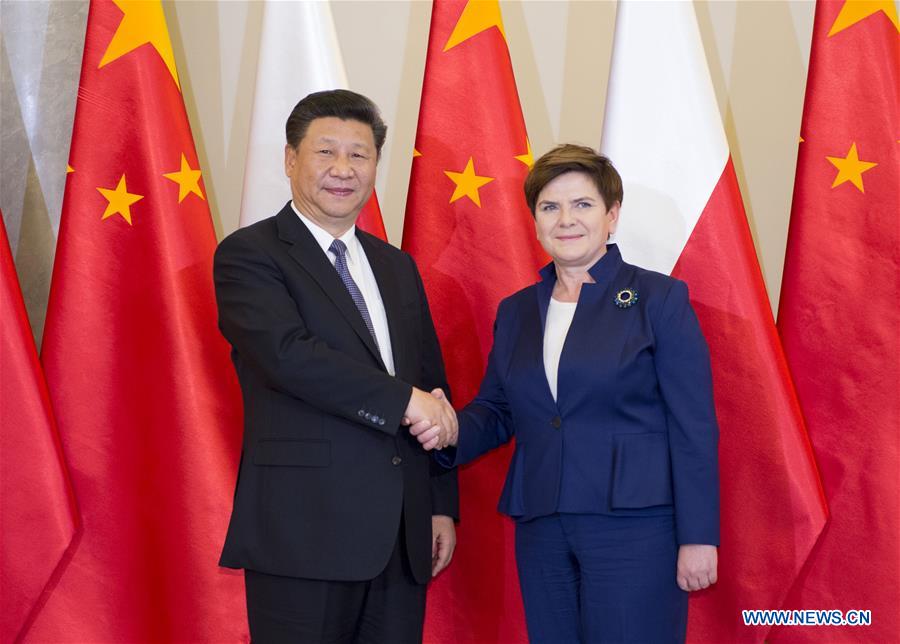 China and Poland should join hands to further substantiate and broaden pragmatic cooperation to bring bilateral relations to a higher level, visiting Chinese President Xi Jinping said here Monday.
Xi made the remarks when meeting with Polish Prime Minister Beata Szydlo during a state visit to Poland.
China and Poland should strengthen cooperation in various fields including transport, logistics and customs, and build a logistic center that could serve the Central and Eastern European(CEE) region, Xi said.
He called for Poland's deeper participation in the China-proposed Belt and Road Initiative by taking full advantage of the China-Europe freight trains, so as to enhance inter-connectivity between China and Poland as well as between China and other CEE countries.
Poland has been an important trade hub for millennia, both on the ancient Amber Road and the Belt and Road initiated by China. Many of the China-Europe freight trains launched in recent years, which have been brought under the family brand CHINA RAILWAY Express earlier this month, also pass through the country.
Hailing the traditional friendship between the two countries, Xi said that bilateral relations have been developing steadily since the establishment of diplomatic ties in 1949, and have turned to be highly vigorous over recent years.
China is willing to participate in Poland's railway network upgrade, port construction and industrial zone projects, and push forward the bilateral production-capacity cooperation, said Xi.
The president encouraged the expansion of two-way investment and financial cooperation and urged the two countries to increase bilateral trade based on the principles of win-win and mutual benefit.
He also called on the two sides to deepen cooperation at local levels, enhance exchanges between think tanks, universities and scholars, and strengthen exchanges and cooperation in tourism and winter sports.
Xi appreciated Poland's contribution in the China-CEE cooperation, adding that China stands ready to work together with Poland and other CEE countries to deepen cooperation in economy, trade, energy and finance, so as to foster practical and long-lasting China-CEE cooperation, a mechanism linking China's Belt and Road Initiative with the European economic rim.
Szydlo, for her part, said that the Polish government attaches great importance to Xi's state visit and is willing to deepen cooperation with China in the areas of economy, trade, investment, agriculture, transport and infrastructure.
Poland is fully supportive of and vigorously participating in the Belt and Road Initiative, she said, adding that it is in the interests of both countries and the wider regions they are in.
Xi arrived in Warsaw on Sunday for a state visit, the first by a Chinese head of state to Poland in 12 years.
On Monday, China and Poland agreed to upgrade bilateral ties to a comprehensive strategic partnership. The two countries established a strategic partnership in 2011.
Poland is the second leg of Xi's three-nation Eurasia tour. He visited Serbia, and is expected to travel to Uzbekistan for a state visit and to attend a summit of the Shanghai Cooperation Organization.