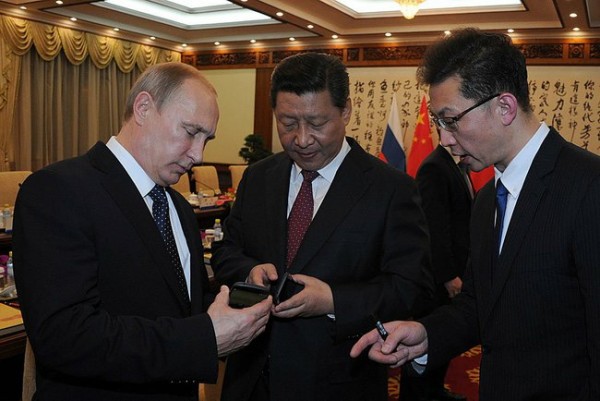 Russian President Vladimir Putin, who has worked to forge closer strategic ties with China even as US' Asia Pivot policy aims to change the balance of power in Asia, is headed to China this week.
Putin will seek to cement progress the two countries have made on economic and security fronts when he arrives in Beijing on Saturday.
Putin will pay an official visit to China on June 25 at the invitation of his Chinese counterpart Xi Jinping, the Kremlin press service said Monday.
Russia-China ties have warmed significantly over the past few years.
"The two leaders will discuss practical measures to further strengthen comprehensive Russian-Chinese cooperation, in an equal and confidential partnership that will include trade and economic development, investment, research, technological and cultural relations," said a Kremlin statement on Monday.
"The agenda of the talks will also include key international issues, interaction at multilateral and regional organisations, primarily the UN, BRICS and the G20, as well as implementation of the agreements that were reached during the SCO summit in Tashkent on June 23–24," it added.
A package of bilateral documents on trade, economy and investment, is expected to be signed during the visit.
Russian President Vladimir Putin is considering selling a 19.5 per cent stake in the Rosneft oil giant to companies in India and China to cover Russia's budget deficit, the Bloombergnews website reported Monday.
Officials in Moscow expect to raise at least 700 billion rubles ($11 billion) from the sale. There's "no single preferred option" for the deal, Kremlin spokesman Dmitry Peskov told reporters on Monday.
During Putin's visit, the sides are also set to sign a deal on the supply of Russian wheat to China, Deputy Prime Minister Dmitry Rogozin told reporters.
"Considering the agricultural project, we are talking about the construction of a grain terminal in the [Russian] Trans-Baikal region… In this regard, not just the beginning of the project has been agreed, but in fact we plan to prepare, before the visit of our leader to China, a memorandum … and following the memorandum to sign a contract for this kind of serious, large supplies of wheat to China," Rogozin said.
In December, Russia and China signed protocols on phytosanitary regulations for imports of Russian agricultural products, such as wheat, corn, rice, soybeans and rapeseed, to China. China has now allowed imports of wheat grown in four specific regions of Russia.
The trip furthers one of Putin's foreign-policy efforts: reinforcing the strategic partnership with Beijing.