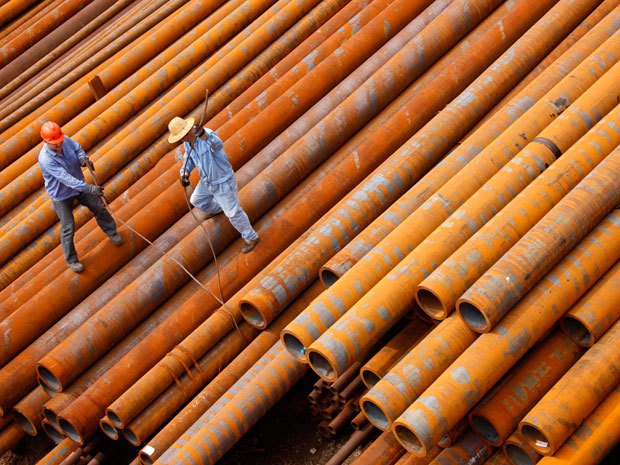 Regardless of how you think China's push toward a more consumer-driven, domestic-focused economy is going, the country remains a major driver of commodity prices.
That's why it's worth a close look to see how end-user demand for resources is looking after economic data for August was released last weekend.
There are some green shoots demonstrating what Macquarie Research analyst Chen Shao considers "scattered evidence" of improvement. This mirrors what he saw in recent copper and steel surveys.
"Just as wider financial markets entered full-scale panic mode about China, the slump in economic activities stopped in August," Shao said, noting that industrial production recorded a monthly gain of 0.53 per cent, up from a trough of 0.33 per cent in July.
Power generation also picked up, climbing to one per cent in August, while the year-over-year contraction in auto production fell to 6.5 per cent from 11.2 per cent.
Even steel output rose, despite being down 3.5 per cent on an annual basis, although the improvement in both copper and steel orders appears primarily the result of public-sector projects.
But, as Shao noted, the signs of stabilization are not yet broad-based. As a result, it appears too early to consider them indicators of a real recovery, as opposed to usual economic fluctuations.
For example, industrial production growth for August was weaker than expected, climbing to 6.1 per cent on an annual basis. That fell short of the average forecast among economists of 6.5 per cent.
This piece of data suggests the Chinese economy remains weak, much like Macquarie anticipated. As a result, it is sticking with its call for a third-quarter slowdown, followed by a rebound in the final three months of the year.
But analysts at Macquarie also think China is nowhere near the hard-landing scenario many investors fear, as demonstrated by the 8.4x forward P/E multiple for the MSCI China index.
"It seems that for a sustainable uptrend in commodity demand to emerge, a turn-around in liquidity growth is needed, something not seen in August," they said.
The good news is that inflation data for August suggests there is plenty of room for further policy easing by the People's Bank of China.
As for how big the next round of stimulus might be, Macquarie doesn't think policymakers have a set number in mind.
Instead, he expects they will do whatever it takes to achieve this year's growth target of seven per cent, while at the same time being careful not to over-stimulate.