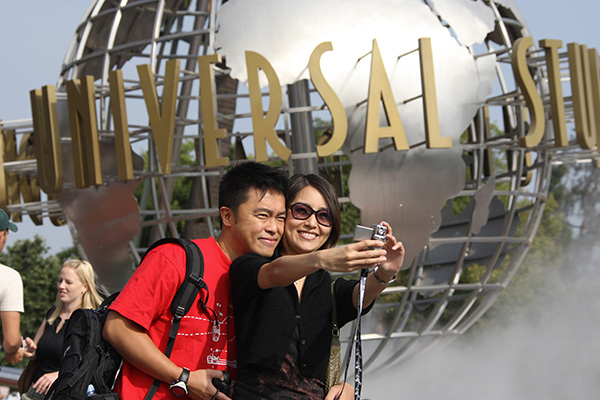 Universal Parks & Resorts, a division of NBC Universal which owns Universal Studios Hollywood, expects to open North China's first international theme park in Beijing by 2020.
An official from the Beijing Municipal Commission of Development and Reform told the Beijing Daily that construction of the $8 billion Hollywood theme park started at the beginning of the month.
Its first phase is expected to be completed by 2019 with the site opening to public the following year, said the official.
With a 10 million-visitor target, the official said the park will have seven main sightseeing areas, including those based on the Jurassic Park and Despicable Me film franchises, making it a strong addition to the Chinese capital's already-impressive array of tourist and culture sites.
Universal Studios did not reply to China Daily's request for confirmation, but the report said the park and resort would feature strong Chinese elements in its catering, hotels, and consumer goods offering onsite.
An official with the Beijing Municipal Commission of Development and Reform was quoted as saying there will be ample transport links to the park.
Already it has been confirmed that the Batong subway line, which connects Tongzhou district to downtown Beijing, and Line 7 will pass through the site.
Subway line S6, which has been upgraded to connect Beijing with Tianjin municipality and Hebei province, with access to the capital's two main airports, is also likely to be linked with Line 7 at a new Universal Park stop, the official was quoted as telling the Beijing Daily.
Beijing's Sixth Ring Road, and the Beijing-Harbin Highway are also expected to connect with the park.
Universal is partnering on the project with Beijing Shouhuan Cultural Tourism Investment Co Ltd, a consortium of four State-owned companies.
The company's sixth giant park globally, and third in Asia after Singapore and Osaka in Japan, it is expected to cover 1.2 square kilometers-five times the size of the former and twice the latter, respectively.
A second phase could then involve another themed site, a water park and five more resort hotels, according to media reports.
Chris Yoshii, vice-president and global director of Leisure Asia AECOM (Hong Kong), a US-based consultancy group, said he expected the park to become a huge attraction.
"It will need to be large to accommodate the crowds expected, that's why Universal is making the Beijing park its largest in the world."
Rival global theme park operators have already prioritized China as a key target market.
Robert Iger, Walt Disney Co's chairman and chief executive officer, said last month it is on schedule to open the gates of its new $5.5 billion resort in Shanghai next spring.