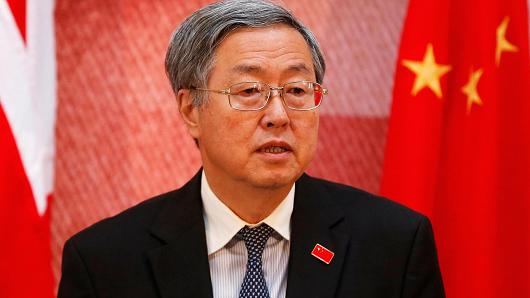 Senior officials in China unleased a slew of statements on Tuesday pointing to sweeping reforms in the financial sector, as the country seeks to bolster investor confidence in its markets.
In a lengthy piece published on Caixin's website, People's Bank of China (PBOC) governor Zhou Xiaochuan pledged his commitment to relaxing restrictions on China's capital markets and promised better signaling of the central bank's intentions, although he didn't specify whether he would hold post-monetary policy meeting conferences as other central bank do.
The widespread reforms being undertaken would help the Chinese yuan become an international currency by 2020, the PBOC governor added.
Also Tuesday China's President Xi Jinping told a meeting with senior officials that the government should work to boost the nation's growth momentum.
China should accelerate reforms in state-owned enterprises, fiscal and financial areas that can help lift economic growth, said Mr. Xi in the meeting, according to state-run Xinhua News Agency.
At the same time, vice finance minister Zhu Guangyao told a press conference that China was confident of hitting its 2015 growth target of about 7 percent, and vice commerce minister Wang Shouwen promised that China would honor multilateral trade systems.
And the PBOC's deputy governor Fan Yifei said that China would ensure its $7 trillion card payment market was open to foreign companies.
The International Monetary Fund is reviewing whether to include the Chinese yuan in the Fund's reserve currency basket, alongside the U.S. dollar, the euro, the British pound and the Japanese yen.
Zhou wrote that China saw the yuan becoming an international currency by 2020, with cross-border yuan funds accounting for one-third of cross-border capital.
Zhou added that China would deliver a slate of economic and financial reforms up to 2020, including raising and abolishing quotas — both foreign and domestic — in capital markets. China would also relax restrictions on bond issuance by foreign institutions, he wrote.
The country will foster new mechanisms to promote the liberalization and development of financial systems, as well as "enhance the efficiency of the financial system to serve the real economy."
"It will effectively use and develop financial risk control tools, and reduce levels of leverage so as to prevent systemic risk," he said.
Zhou's article come amid growing doubts about China's commitment to see through comprehensive financial reforms, after authorities intervened repeatedly in the stock markets to stem an rout that started in late June.
In August, the PBOC announced a surprise devaluation in the yuan, which prompted accusations the country was manipulating its currency.
As well as the reputational damage caused by both moves, China's weaker data has continued to raise worries that the economic powerhouse would no longer be able to drive global growth.
But vice finance minister Zhu said that China was confident of achieving economic growth of around 7 percent in 2015.
And Zhou's open stance toward finance and trade was reiterated at a press briefing by China's vice commerce minister ahead of the G20 summit in Turkey next week. At the event, Wang said China would uphold and support multilateral trade systems and oppose protectionism.
China has previously warned the European Union to abide by World Trade Organization rules and not to resort to what it would consider protectionism – "anti-dumping" tariffs on Chinese-made goods. But China itself has come under fire from critics who have charged that the government was using a 2008 anti-monopoly law to unfairly target foreign multinationals who wanted to operate in China, such as tech giant Microsoft.
Meanwhile, a PBOC official told a forum in Beijing that China's $7 trillion card payment market was open to foreign and local applicants and regulators would not set a limit on the number of cards that issuers could grant in China.
Significantly, overseas bank card providers such as Visa and MasterCard would not have to establish joint ventures before entering the country's card payment market, Fan Yifei, the deputy governor of the People's Bank of China said.
The remarks came after industry sources, lawyers and U.S. business lobbies said they were worried that Chinese regulators would push foreign card firms to operate through a domestic consortium and may try to force them to partner with local companies and governments, reducing the amount of control they would have over their businesses and limiting their returns.