Nations to bolster efforts for economic corridor link to Russia
China and Mongolia vowed on Tuesday to strengthen efforts on the blueprint for an economic corridor linking the two countries and Russia.
President Xi Jinping and visiting Mongolian President Tsakhia Elbegdorj made the remarks during their meeting at the Great Hall of the People in Beijing.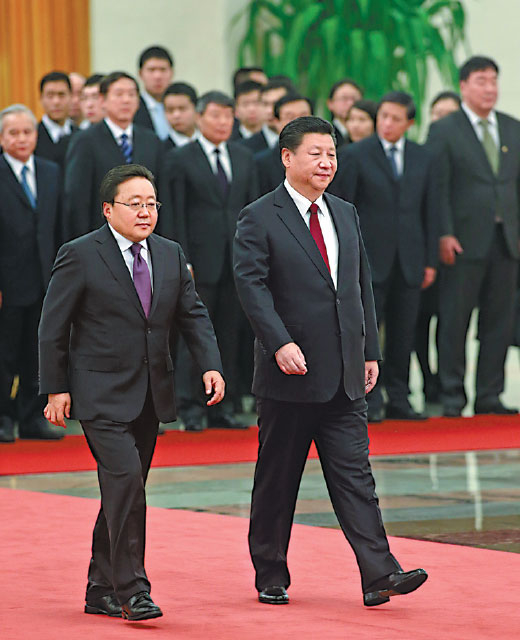 Xi also said China respects the development path chosen by the Mongolian people.
He suggested the two governments work out an agreement on the details of integrating China's Belt and Road Initiative with Mongolia's Steppe Road plan.
Elbegdorj said his country will make ties with China a priority for its foreign policy.
After the meeting, the two leaders witnessed the signing of a series of cooperation documents covering infrastructure, energy and financing.
Chen Hai, deputy director-general of the Department of Asian Affairs at the Chinese Foreign Ministry, said of the meeting, "We reached consensus on further pushing forward big projects, including the Tavan Tolgoi coal mine, gas and power stations."
China Shenhua Energy Co Ltd has been involved in developing the Tavan Tolgoi coal mine in southern Mongolia, one of the world's largest untapped coal deposits.
He also said that China has decided to increase imports of beef and mutton from Mongolia.
China has been Mongolia's largest trading partner and largest source of foreign investment for more than a decade.
Last year, two-way trade volume stood at $7.3 billion. Mongolia mainly exports mineral products and live-stock to China.
Tsedenjav Sukhbaatar, the Mongolian ambassador to China, said ahead of the visit that his country closely follows China's Belt and Road Initiative.
It expects to link it with Mongolia's Steppe Road plan and Russia's national development plan to involve Mongolia with the economies of China and Russia.
He said the blueprint for a China-Mongolia-Russia economic corridor is about to be released.
Once the project is launched, Russian resources will enter China through Mongolia before being trans-ported to Southeast Asia, according to the ambassador.
Elbegdorj started his China visit on Monday in Xi'an, the capital of Shaanxi province and the start of the ancient Silk Road.
In August last year, a joint declaration was signed by Xi and Elbegdorj on an all-around mutually beneficial cooperation relationship focusing on mineral resource exploration, infrastructure construction and the financial sector.