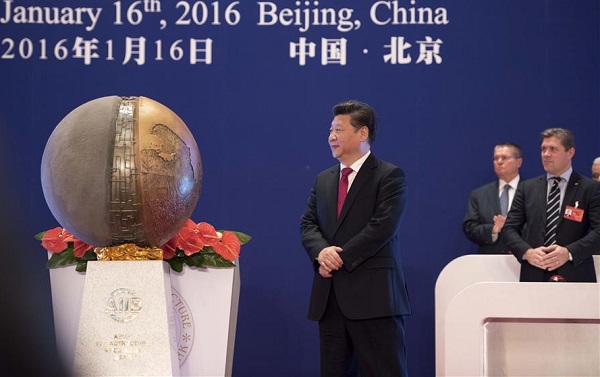 Chinese President Xi Jinping on Saturday attended the opening ceremony of the Asian Infrastructure Investment Bank (AIIB) in Beijing.
"This is a historical moment," Xi said.
The AIIB will extend China's financial reach and compete not only with the World Bank, but also with the Asian Development Bank, which is heavily dominated by Japan. China, however, has repeatedly stressed that the new bank is willing to work with other development lenders.
"The demand for infrastructure development in Asia is enormous. Institutions for infrastructure investment, old or new, have much to offer each other, and may well work together through joint financing, knowledge sharing and capacity building. They may engage each other in benign competition, learn from and reinforce each other, and move forward in tandem," Xi reiterated on Saturday.
Xi also announced that in addition to subscribing capital to the new lender, China will contribute $50 million to a soon-to-be-launched special fund "to support the preparation for infrastructure development projects in less developed member states".
Chinese Premier Li Keqiang will address the founding conference of the AIIB council on Saturday afternoon. The series of opening activities will last till Monday.
These include maiden meetings of the board of the mammoth China-led lender, a $100 billion multilateral development bank. The bank's president will be officially appointed and the management team will be instituted during the meetings.
The China-led development bank was formally established in Beijing on 25 December.
Chinese Finance Minister Lou Jiwei was elected as the first Chairman of the AIIB council. Jin Liqun was elected the first AIIB president.
"The opening of the AIIB marked a milestone in the reform of the global economic governance system," Lou said in a recent interview.
Despite the opposition of Washington, Philippines, a major US ally in the region, has joined the new lender.
The US and Japan have not applied for the membership in the AIIB.
The bank, headquartered in Beijing, now has 57 members, that includes Germany, France, Italy, and the UK.
The new lender is expected to name its first lending projects in mid-2016.
The China-backed multilateral development institution is tasked with financing infrastructure development across Asia.
With an authorized capital of $100 billion, the AIIB will finance infrastructure projects like the construction of roads, railways, and airports in the Asia-Pacific Region.
The ADB has estimated that in the next decade Asian countries will need $8 trillion in infrastructure investments to maintain the current economic growth rate.
BRICS members, China, India and Russia are the three largest shareholders, taking a 30.34 per cent, 8.52 per cent, 6.66 per cent stake, respectively. Their voting shares are calculated at 26.06 per cent, 7.5 per cent and 5.92 per cent.