China's ravenous appetite for overseas assets is powering a record year for Asian dealmaking, with deal volumes in the region surpassing the $1 trillion mark annually for the first time.
Acquisitions involving companies in the Asia Pacific region rose 55 percent in 2015 to $1.2 trillion. Chinese buyers snapped up premier assets, ranging from the world's biggest luggage handler to Italian tire brand Pirelli & C. SpA, and accounted for about half the deals from the region.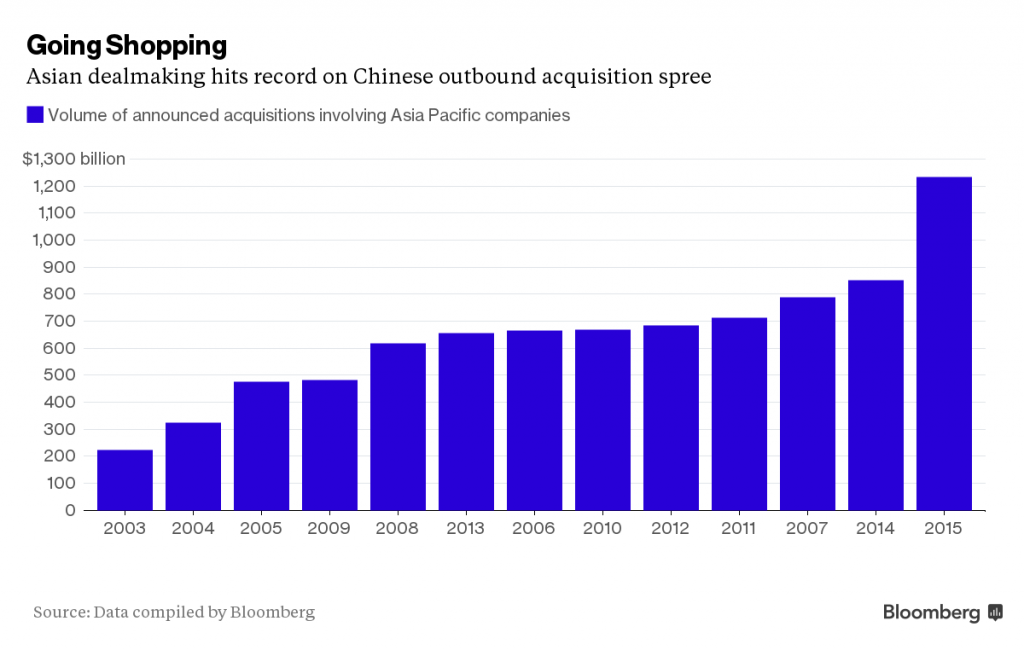 "The M&A market in China has come of age," Brian Gu, JPMorgan Chase & Co.'s co-head of mergers and acquisitions for Asia Pacific, said in an interview in Hong Kong. "We're seeing Chinese firms step up and pursue brands, expertise and intellectual property in order to move up the value chain."
Morgan Stanley was the biggest beneficiary of the dealmaking boom, with a 17.6 percent market share of Asia Pacific transactions this year, followed by Goldman Sachs Group Inc. at 14.4 percent.
Here are the five biggest cross-border deals from China announced this year, followed by five that flopped: 
1. Qihoo 360 Technology Co. management buyout ($8.4 billion):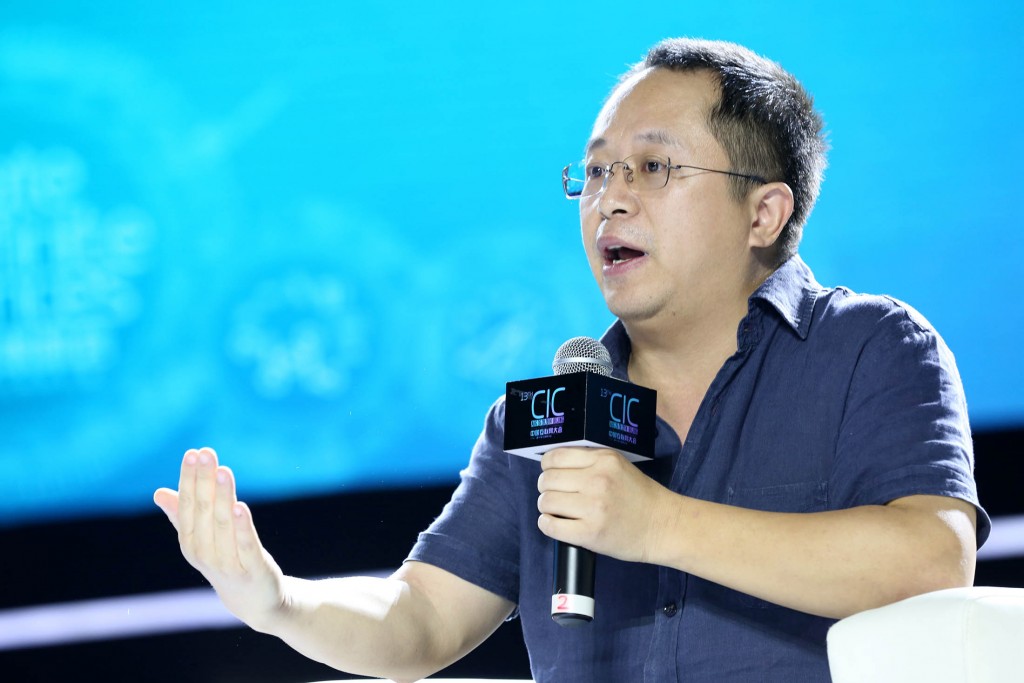 The security software maker's chairman is leading a group of investors attempting the biggest-ever buyout of a Chinese firm listed in the U.S., part of a wave of deals seeking to take advantage of a now-ended stock-market rally back home. The investor group aims to have a definitive deal agreed by the end of the year, according to people familiar with the matter, who asked not to be identified as the information is private. Representatives for Qihoo and the bidding group members declined to comment or didn't respond to requests for comment.
2. China National Chemical Corp./Pirelli ($8 billion):
ChemChina's bid for the storied Italian tiremaker stands out as the largest Chinese purchase in Europe. The state-owned firm, which agreed to leave Pirelli's management in place for at least four years, plans to combine the companies' truck tire businesses and bring some of Pirelli's expertise to its Chinese operations. ChemChina is also in discussions to buy Swiss seed maker Syngenta AG, people familiar with the matter have said.
3. Tsinghua Unigroup Ltd./Western Digital Corp. ($3.8 billion):
The Chinese technology dealmaker bought 15 percent of Western Digital Corp., the world's biggest hard-drive maker, which then in turn promptly offered $17.7 billion for memory-chip rival SanDisk Corp. The private-equity arm of elite Tsinghua University now has one seat on the Western Digital board, though its director has to walk out if sensitive U.S. government contracts are discussed.
4. WuXi PharmaTech Cayman Inc. take-private ($3.3 billion):
The Chinese biotechnology firm's takeover became the biggest take-private deal this year to actually get done after it cleared the final hurdles earlier this month. The investors that acquired the company include Ally Bridge Group, Boyu Capital, Hillhouse Fund and Singaore's Temasek Life Sciences Pte.
5. HNA Group Co./Swissport International AG ($2.8 billion):
Next time an airline loses your luggage, you can probably blame China. HNA, owner of the fourth-largest Chinese carrier, agreed in July to buy the world's biggest provider of cargo and ground handling services from PAI Partners SAS. HNA didn't stop there: it agreed a few days later to acquire aircraft lessor Avolon Holdings Ltd. for $2.5 billion.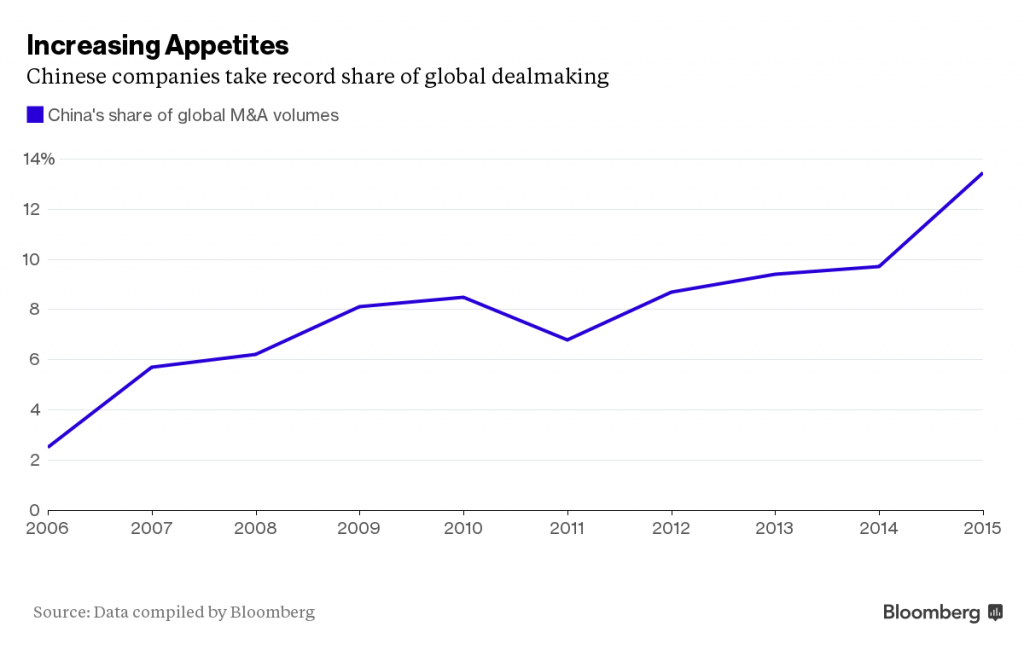 Not all of China's dealmaking went smoothly this year. Here are five acquisitions that ran into trouble:
1. Tsinghua Unigroup Ltd./Micron Technology Inc. ($23 billion):
Back in July, Tsinghua Unigroup was preparing a $23 billion offer for the memory chip manufacturer, people with knowledge of the matter said. The acquisition, which would have been the largest takeover of a foreign firm by a Chinese company, was met with silence from Micron's board. They have never spoken publicly on the proposal; six months later, that remains the case. A representative for Tsinghua declined to comment.
2. Focus Media Holding Ltd. reverse merger ($7.4 billion):
The outdoor advertising firm backed by Carlyle Group LP failed at its first attempt to relist in its home market in China. The target shell company became the subject of a regulatory probe, and Focus dropped the deal. Focus has now found a new target for the reverse merger and is working on the listing at a valuation almost double its 2013 purchase price.
3. GSR Ventures/Philips Lumileds ($2.8 billion):
The U.S. government committee charged with vetting foreign purchases cleared a number of technology deals by Chinese buyers this year, but this acquisition agreed in March is in limbo. Royal Philips NV warned in October the sale of its lighting components business to a Chinese investor group was "uncertain" following U.S. regulatory concerns. A representative for GSR Ventures declined to comment.
4. Citic Securities Co./Russell Investments ($1.8 billion):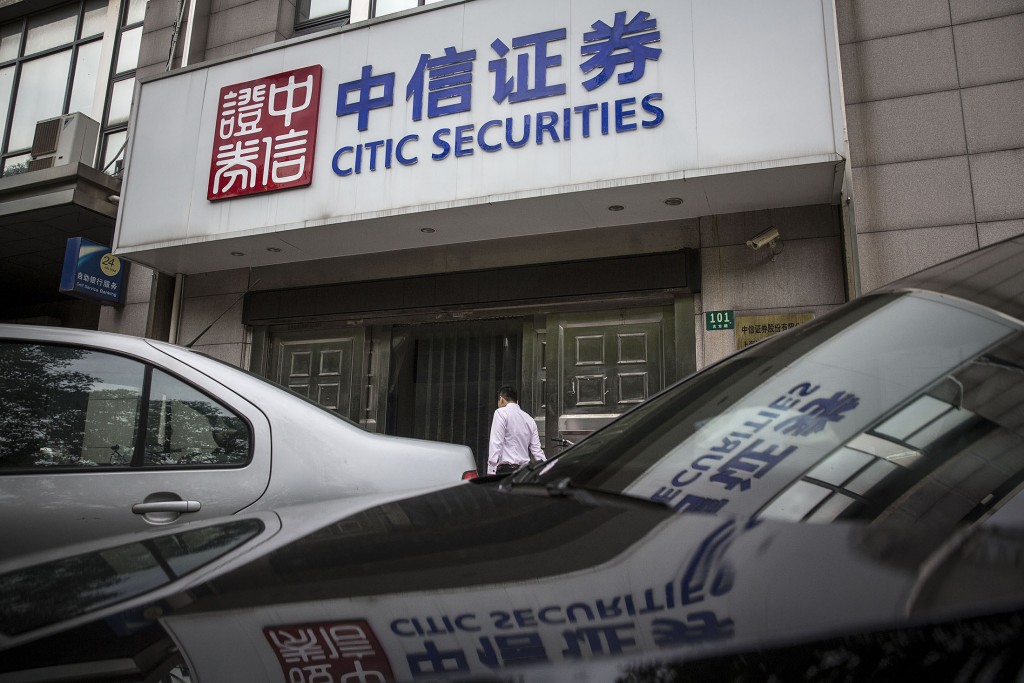 Another casualty of China's broad anti-graft probe, London Stock Exchange Group Plc's plan to sell the Russell fund management business to Citic Securities faltered following investigations into some of the Chinese brokerage's management, people with knowledge of the matter said in September. By December, at least ten executives at Citic Securities had been caught up in the government probe into China's stock market rout. A representative for Citic Securities didn't immediately respond to an e-mail seeking comment.
5. Sunac China Holdings Ltd./Kaisa Group Holdings Ltd. ($1.2 billion):
Sunac had hoped to be the white knight, rescuing troubled developer Kaisa. After due diligence, Sunac said it found the Shenzhen homebuilder's net asset value to be "basically zero" and scrapped the deal. Kaisa became the first Chinese developer to default on U.S. dollar debt after Sunac walked away.