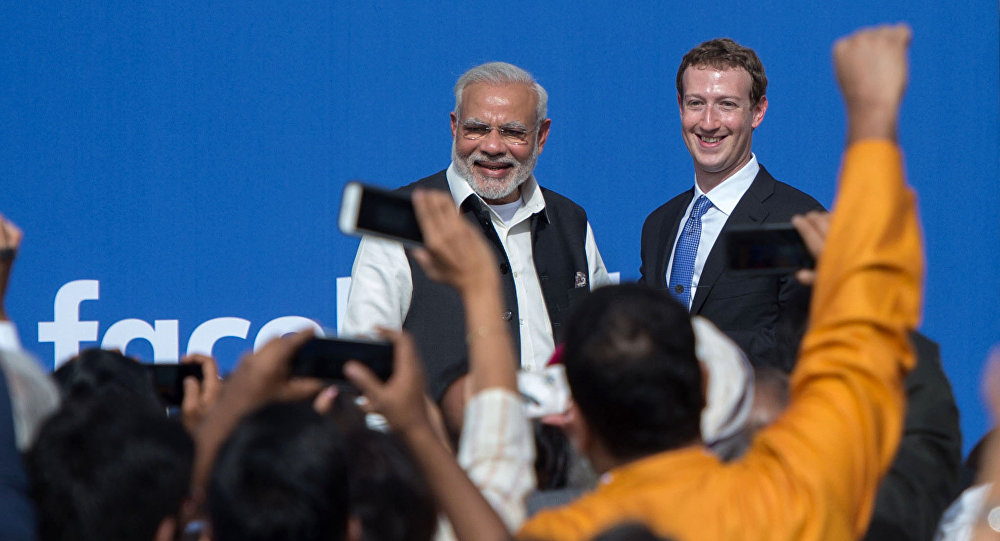 One of India's key sectors is slated to gain momentum after the country's prime minister's recent visit to California's Silicon Valley. Prime Minister Modi hopes to raise the standard of living in a country where, according to 2011 census data, 75 percent earn the equivalent of less than 78 USD per month and only 11 percent of the population is wealthy enough to own a refrigerator.
Modi's trip has already started to bear fruit as Google has agreed to equip more than 500 Indian railway stations with wireless internet "in a short time".
The meeting between Narendra Modi and Facebook CEO Mark Zuckerberg also marked a historic event; the two promoted both India's rise to prominence in the global tech sector and welcomed the growing power of social media platforms.
"We are an $8 billion economy today. My dream is to become a $20 trillion dollar economy," Modi said during his presentation at Facebook Headquarters.
The Indian prime minister gave a speech in front of 350 American businessmen to promote his 'Digital India initiative', which is designed to provide thousands of Indians with internet access and create more tech jobs by opening hubs and moving more services online.
India is expected to raise funds and attract skills from the US as the cooperation between the two countries represents a mutual interest in promoting the IT sector all around the globe.
"We must bridge the digital divide and promote digital literacy in the same way that we seek to ensure general literacy," Modi said.
"Poverty is a massive problem in India and technology-based entrepreneurship can be an antidote."
There is a large Indian diaspora community based in Palo Alto whose knowledge and experience in tech start-ups is of great interest, as it promises to lead India to new economic growth.
Satya Nadella and Sundar Pichai, the CEOs of Microsoft and Google, are originally from India; they were among those who moderated a panel before Modi's speech.
A June 2012 Pew Research Center study found that not only do Indian Americans constitute the most educated population in the US, with more than 80 percent holding university or advanced degrees, but they also have the highest income levels, earning $65,000 per year with a median household income of $88,000, far higher than the US household average of $49,000.
Touted as one of the most technologically advanced world leaders, Modi ranks second after Obama in terms of his number of twitter followers.  He has broad-based support on Facebook. He has always been driven by the idea of creating an  electronic government for India.
Modi met with the CEOs of Apple and Tesla Motors; he plans to take their renewable energy technology to India. The far-reaching intentions of the Indian leader are to make his country flourish by boosting the start-up scene, attracting foreign investment and encouraging successful Indians to bring their tech knowledge back home.