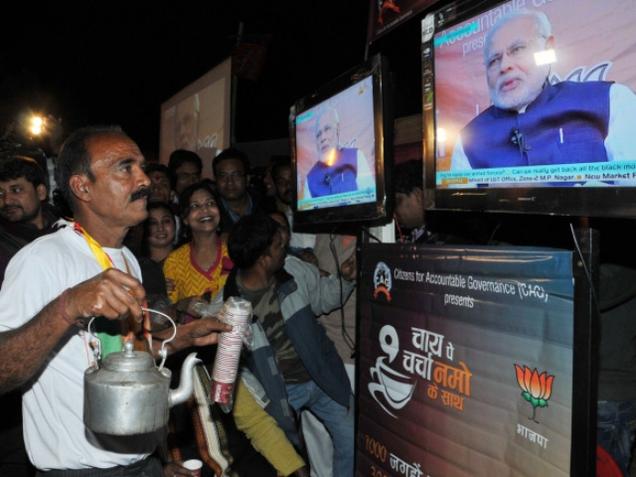 Can Modi get his mojo back in time for the September elections?
On February 12, 2014, Gopal Prasad Yadav, a tea seller, was the most talked about man in Patna. Mr.Yadav, 42, had been chosen for a much-publicised video conference conversation — chai pe charcha — with the then prime ministerial candidate of the Bharatiya Janata Party, Narendra Modi. Mr. Yadav had been running a tea stall since 1998 in Naya Tola after his attempts at finding a job had failed. His stagnation as tea seller was a searing verdict on Bihar: he had been a national level swimmer for India and a three-time state champion for Bihar.
The video conference between Mr. Modi and Mr. Yadav, a great electoral ploy to remind the electorate of Mr. Modi's humble origins, had filled Mr. Yadav with hope. A large television screen linked to a power generator had been placed near his stall and a huge crowd assembled as he chatted with Mr. Modi over a cup of tea. "Sir, there is so much poverty, unemployment, power shortage and drinking water problems. Do something for Bihar," he urged Mr. Modi. "And help me with a job."
A year on, Mr. Yadav feels dejected. "He seemed to be the only strong leader after Indira Gandhi," he told The Hindu, "but Mr. Modi turned out to be like other politicians." Looking back, Mr. Yadav feels the only takeaway from his hyped interaction with Mr. Modi was a loss of Rs. 2,000, the money he spent on arrangements that day.
"I have written three letters to Modiji since he became Prime Minister, reminding him of my request, but he has not even acknowledged my letters," Mr. Yadav said. In his meetings with Mangal Pandey, the State president of the BJP in Bihar, he was sent away with the promise that, "things will be better when the BJP forms the government in Bihar."
Meanwhile, supporters of non-BJP parties in his area taunt him, "Where are your acche din now?" "Politicians only come to cheat us," Mr. Yadav sighed. He is wondering whether he should vote for the BJP in the forthcoming Assembly elections slated for September and October. A few miles away, on Mandiri Road, another tale of disappointment emerges from another tea stall. A BJP legislator and activists decorated his kiosk with "NaMo Tea" banners during last year's election campaign; newspapers featured the stall. "I was hopeful that when a tea seller became Prime Minster, he would think about people like us," said stall-owner Dilip Kumar Yadav. But after the elections, he never heard from the BJP again. "Even the MLA doesn't stop for a cup of NaMo tea," he rued. "The BJP is a party of bade log(big people.) They only use us for their benefit." Mr. Yadav, who supports a family of eight, wonders why the Prime Minister has all the time to visit foreign countries but has not visited Bihar even once. "Bihar made Modi's dream possible but all he does is dialogue baazi," he added. A barrage of complaints about the absence and apathy of Patna MP Shatrughan Sinha follow. "We have not seen him after he won."
Mr. Yadav has decided to vote against the BJP. Branding the tea stall as "NaMo Tea" cost him a part of his clientele — students and teachers of a nearby Muslim seminary. "It took me a lot of time to convince them," he said. In his reconsidered position, he sees Bihar fundamentally dominated by Lalu Prasad and Nitish Kumar. "If they come together in the Assembly elections, the BJP will bite the dust."
Ebbing support
The formidable wave of support that Mr. Modi found in Bihar has ebbed. In the Lok Sabha elections, the BJP won handsomely, getting around 30 per cent votes while its coalition partners, the Lok Janshakti Party and the Rashtriya Lok Samata Party, together got around 10 per cent. Earlier, in the 2010 State Assembly elections, the BJP had contested with Mr. Kumar's Janata Dal (United), winning around 16 per cent votes and 91 seats.
The BJP is now going all out to win Bihar's trust back. BJP leaders have been asked to fan out across the State to propagate Mr. Modi's achievements ; Rashtriya Swayamsevak Sangh workers and scholars have been gauging the public mood and have been preparing feedback for the past three months. The BJP is also working hard on enlisting new members, cold calling almost every number in the Patna phonebooks.
"Whatever be the political formulations, it is clear that the NaMo magnet will not be able to pull voters this time," said Nawal Kishore Chaudhary, Principal of Patna College. "Only publicity and hype doesn't drag voters to booths."
But the biggest challenge the BJP faces is the likely alliance of Mr. Kumar and Mr. Lalu Prasad after their humiliating defeat in the Lok Sabha elections, when they contested separately. Along with the Congress, they won around 46 per cent of the votes last year; the BJP-led NDA won 40 per cent, although it won more seats.
Mr. Kumar's strength lies in his reputation for good governance, his track record as Chief Minister, and his astuteness in bringing together various caste groupings under his influence through social engineering. Mr. Prasad still controls the votes of his Yadav community, which form 12 per cent of the electorate, except in Kosi area where Pappu Yadav, the infamous expelled MP from Madhepura, remains popular.
After coming to power in November 2005, Mr. Kumar assiduously won the sizeable support of over 30 per cent of the extremely backward caste (EBC) groups, along with a significant 17 per cent of minority votes. He also won 15 per cent of the Dalit votes by creating the category of "Mahadalit." But his expulsion of Dalit leader and former Chief Minister Jitan Ram Manjhi is likely to cost him a chunk of Dalit voters. The difference between State and national elections cannot be overstated. "In the Assembly elections, the minority vote decides the contest on 60-70 seats," explained Abhay Kumar, a psephologist.
The Modi wave that swept Bihar just a year ago is receding. Five months from now, we will see if the Prime Minister is able to recreate his magic.
amarnath.tewary@thehindu.co.in
Keywords: Modi 365, Bihar assembly elections, Chai Pe Charcha, Narendra Modi, BJP, RSS