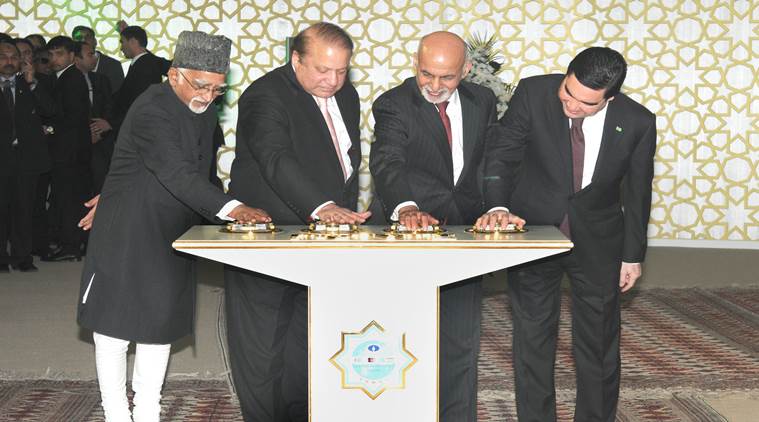 Indian Vice President Hamid Anasri, Pakistan Prime Minister Nawaz Sharif and leaders from Turkmenistan and Afghanistan on Sunday broke the ground for the ambitious USD 7.6 billion TAPI pipeline project which will provide energy-hungry India gas to run its power plants.
Anasri flew to the ancient city of Mary, 311 km from the capital Asghabat, which was part of the old Silk Route, to attend the ground-breaking ceremony of the 1800-kilometre-long TAPI gas pipeline in the presence of Afghan President Ashraf Ghani and Turkmenistan President Gurbanguly Berdimuhamedow.
They pushed a button which started the welding process of pipes. They later signed the pipe and also signed a document which was put in a capsule and placed under the ground.
At the ceremony, Berdimuhamedow hoped that the project would get operationalised by December 2019. He said the project proves that Turkmenistan can carry such huge amount of gas to places where it is required.
The TAPI pipeline will have a capacity to carry 90 million standard cubic metres a day (mmscmd) gas for a 30-year period. India and Pakistan would get 38 mmscmd each, while the remaining 14 mmscmd will be supplied to Afghanistan.
Ansari while terming the project as a "reflection of desire" to the old age legacy warned that all stakeholders have to work together with resolve to ensure that "negative forces inimical to the success of the project are addressed in an appropriate manner.
"In doing so, we must recognise that the forces of violence and disruption can no longer be allowed to threaten the quest for economic development and security of our people. I am confident that with the active engagement of all four governments, and the support of our international partners, we can overcome such challenges."
He also appreciated the role of ministers and officials who worked hard to achieve the goals and said Petroleum Minister Dharmendra Pradhan is an example of new generation of politicians who work hard to make India prosperous.
Ansari said the four nations also need to work together to ensure the technical and commercial viability of the project in its broadest sense.
The international marketplace for energy works on complex principles. Often these are difficult to fathom. However, given the widespread poverty that exists in our countries, it is essential to ensure that we can make energy available at the least possible cost to the largest sections of our people, he said.
Prime Minister Sharif said the TAPI project will prove to be a trailblazer and open doors for similar such projects to connect Central Asia with energy starved South Asia.
Terming regional connectivity as an issue which is close to his heart, Sharif said it will help bring prosperity and peace. He also urged other countries to participate in the China-Pakistan economic corridor as it would help them connect with the ports of Pakistan for greater economic activity.
Afghan President Ghani said the groundbreaking ceremony is a historic event as it has helped overcome history of doubts and scepticism. He also said the project will help reestablish ties as old as a million years which were "ruptured" following the advent of the Soviet Union.
Ghani said that against the backdrop of success of the Paris climate talks, the four nations will have a positive carbon footprint due to use of gas for energy production.
Besides the gas pipeline, the four countries will be connected by fibre optic cable, he said, adding that a power transmission line will also connect Turkmenistan, Afghanistan and Pakistan.
Turkmenistan's state company Turkmengaz will lead the consortium for building the pipeline carrying gas from the former the Soviet state to India, Pakistan and Afghanistan.
Turkmengaz will be the consortium leader after foreign firms refused to participate in the project. French giant Total SA had initially envisaged interest in leading a consortium of national oil companies of the four nations in the TAPI project.
However, it backed off after Turkmenistan refused to accept its condition of a stake in the gas field that will feed the pipeline.
India's state gas utility GAIL has signed a Gas Sales and Purchase Agreement (GSPA) with Turkmengaz for import of 38 mmscmd of natural gas for 30 years. However, with Afghanistan agreeing to take approx 1.5-4 mmscmd against the original agreed volume of 14 mmscmd, the Indian volumes may increase to 43-44.25 mmscmd.
TAPI will carry gas from Turkmenistan's Galkynysh field, better known by its previous name South Yoiotan Osman that holds gas reserves of 16 trillion cubic feet.
From the field, the pipeline will run to Herat and Kandahar province in Afghanistan, before entering Pakistan. In Pakistan, it will reach Multan via Quetta before ending at Fazilka (Punjab) in India.
TAPI will provide an alternative supply source of gas with dependable reserves leading to enhanced energy security. It will further diversify the fuel basket to the benefit of Indian economy, Pradhan had recently said, adding the gas would be used mainly in power, fertiliser and city gas sectors.
A security consultant has recommended establishment of an inter-government joint security task force (JSTF) to serve as the nucleus of the safety of the pipeline.