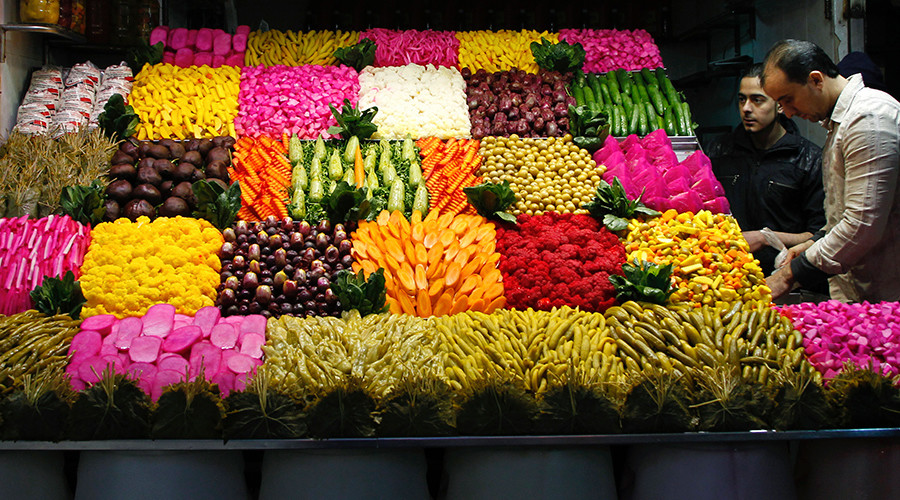 Syria has started exporting fruit and vegetables to Russia, reports Kommersant business daily. The produce is expected to partially fill the void of banned Turkish goods.
Russian food importer Adyg-Yurak is talking with local food retailers over selling Syrian produce, according to the head of the firm Aslan Panesh quoted by Kommersant.
"Poor quality packaging is still the problem which currently prevents us from regular supplies of Syrian fruit and vegetables to Russia,"said Panesh.
Adyg-Yurak plans to invest in producing modern packaging in Syria in the next six months.
"The measure will enable the firm to import some 3,000-5,000 tons of Syrian fruit and vegetables weekly," said the businessmen, stressing that the company had already invested over $3 million into logistical support. The overall investment will be up to $10 million.
According to Panesh, nearly 3,000 tons of oranges, lemons, grapefruit, tomatoes and cabbage from Syria were delivered to the Russian port of Novorossiysk last week.
It won't be easy for Adyg-Yurak to negotiate contracts with Russia's high volume retailers due to the risks related to the ongoing conflict in Syria, according to the executive director of the Sovecon research center Andrey Sizov.
"Contracts of this kind assume supplies and distribution on a monthly basis. I'm not sure the company will convince huge retailers that agreements would be observed," said Sizov.
The food ban is part of sanctions Moscow imposed on Ankara after a Turkish jet shot down a Russian fighter-bomber over Syria in November. Turkish Deputy Prime Minister Mehmet Simsek said the produce ban could cost his country's economy $3.1 billion this year.