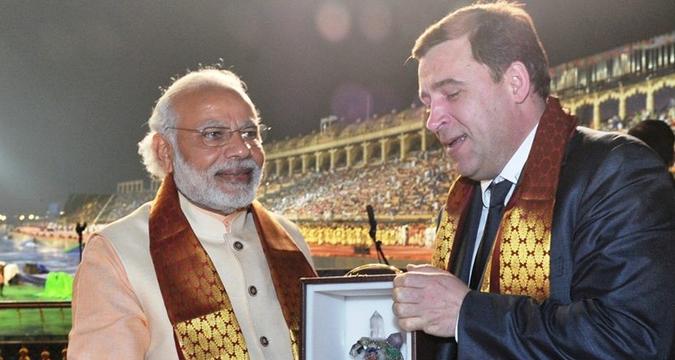 The city of Yekaterinburg is known in India primarily as the place where the last Russian Tzar, Nicholas II, and his family were executed soon after the October Revolution of 1917.
However, Evgeny Kuyvashev, Governor of Russia's Sverdlovsk Region of which Yekaterinburg is the capital, was in India recently to provide a completely different picture and invite Indian companies to visit the region to see for themselves enormous opportunities that exist to conduct mutually beneficial business with their Russian counterparts.
Governor Kuyvashev said India and the Sverdlovsk Region were bound by strong economic and business ties and that cooperation between businesses of both countries was gathering new momentum. Of the 143 countries with which Sverdlovsk has business relations, India ranks 12th, adding that his visit would lead Indian companies to enhance the horizon and limits of bilateral cooperation. He was speaking at an interaction with leading Indian businessmen at the Federation of Indian Chambers of Commerce and Industry (FICCI) on March 10.
India is set to be a partner country at the annual 'Innoprom' International Industrial Exhibition, to be held in Yekaterinburg in the summer of 2016.
"Sverdlovsk Region is prepared to expand ties with India in areas such as energy, mechanical engineering, mining, computer technology, health and education," said Governor Kuyvashev.
The Governor was leading a business delegation to India comprising representatives of the Ural Chamber of Commerce and Industry, Government of the Sverdlovsk Region, regional companies which deal in industrial production, mechanical engineering, mining equipment, heavy machinery engineering, medical equipment and other sectors.
Alexey Orlov, Deputy Chairman of the Sverdlovsk Government, gave a detailed presentation outlining advantages of doing business with companies in the region, and spoke of the tremendous scope that existed for cooperation in the fields of science and education.
In his address to the businessmen, Yaroslav Tarasyuk, Trade Commissioner from the Russian Trade Representation office said companies from Sverdlovsk could particularly contribute significantly to development of the Indian Railways, and in machine building and mine development. He hoped Indian companies would use the delegation's visit to identify new areas of cooperation. The Indian government is looking at large-scale investment in its railways.
Vivek Abraham, Assistant Vice President, Invest India, gave details to the delegation from Sverdlovsk about how the Indian Government was looking to attract enhanced inflow of foreign investment into India and the facilities that are offered to foreign companies keen to invest in the country.
Sverdlovsk is one of the major regions in the Russian federal economic structure, situated almost in the centre of Russia, on the border line between Europe and Asia (Ural Federal District). The region's administrative centre is the city of Yekaterinburg.
Among other high-level members of the delegation were Andrei Besedin, President Ural Chamber of Commerce and Industry, Mikhail Kozlov, head of foreign economic and interregional relations, Alexandr Petrov, Chairman of the Board of directors ZavodMedsintez, which specializes in the manufacture of high value-added products in the sphere of biotechnology, pharmaceuticals and medical equipment, and Oleg Chernov, CEO of Ural Plant of Chemical Machine-Building (Uralhimmash), which specializes in production of equipment for gas and petroleum processing, chemicals, petrochemicals, and other sectors of industry.
Uralhimmash Plant recently signed a contract to manufacture and supply around 85 tons of equipment for the Kudankulam Nuclear Power Plant in the south Indian state of Tamil Nadu.
Also among the delegates were Irina Donnik, Rector of the Ural Agrarian University and Viktor Koksharov, Rector of the B.N.Yeltsin Ural Federal University, seeking to interest enhanced cooperation in the sphere of higher education and student exchanges.
Delegation members interacted in closed sessions with Indian businessmen to discuss specific projects. Sources said they were looking to expand trade relations and joint projects to reach a level of half a billion dollars by 2020, almost double the current level of trade ($260 million) between the region and India, which is heavily tilted in favour of the Russian region, which mainly supplies ferrous metals, building materials, engineering products and equipment to India. Sverdlovsk imports ferrous metals, electrical machinery, tools and medicines from India.