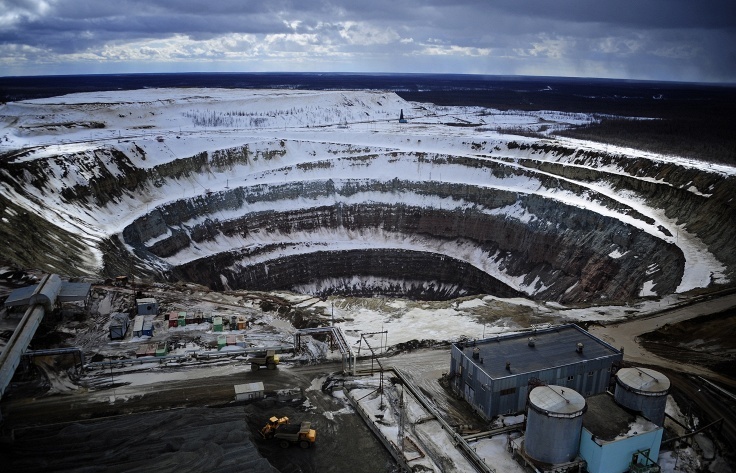 Diamond exploration could start at three new sites in Yakutia until 2020 using the funds from the Federal budget, the Russian Ministry of Natural Resources said Tuesday.
The Russian state balance of mineral reserves includes 59 diamond deposits in the total amount of 1.217 billion carats. In addition, inferred resources amount to 3.7 billion carats. The territory of Yakutia has 82% of Russian reserves of diamonds. Almost all diamonds reserves (over 97%) are located in the control of the subsoil fund, according to the Ministry of Natural Resources.
Alrosa has 51 licenses for subsoil use. According to the company, the total reserves of Alrosa according to the Russian classification system and as of January 1, 2016, amounted to 1.1 billion carats.
Alrosa is a group of Russian diamond producers. It mines diamonds on the territory of the Republic of Sakha (Yakutia) and the Arkhangelsk region.
It was reported earlier that Alrosa, the world's largest company in terms of diamond production, increased its diamond output by 6% to 38.3 million carats in 2015, the company's sales fell by 24% to 30 million carats as compared to 2014 year.
According to preliminary data, in 2015, revenues from diamond sales decreased by 30% to at least $3.4 billion.
Earlier the president of Alrosa Andrei Zharkov attributed the decrease in revenues in 2015 to a decline in prices of diamonds on the global market by average 15% and to the overall deterioration of market conditions.
In 2015, diamond production increased due to the launch of the Botuobinskaya pipe in the republic of Yakutia, production growth by Severalmaz in the Arkhangelsk region, as well as to increase in output by the Mir and Udachnaya pipes at underground mines in Yakutia, according to the report.