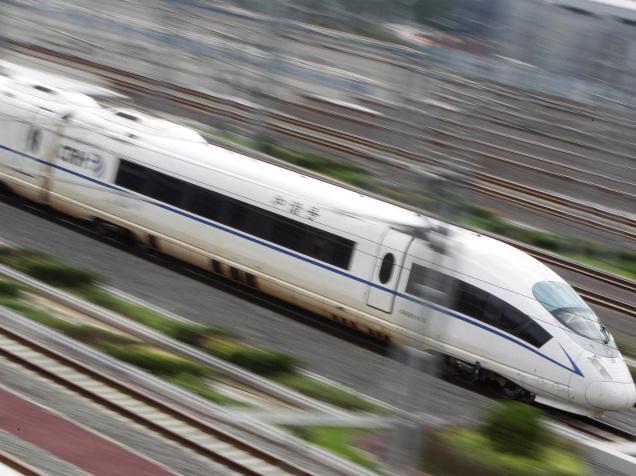 After losing out to Japan to build India's first bullet train network, China on Monday said it has still kept its options open to pursue cooperation with India in the high-speed rail sector as it is carrying out feasibility studies in two different corridors in the country.
"Countries in Asia have been developing infrastructure to support their further development," Chinese Foreign Ministry spokesman Hong Lei told a media briefing here.
He was responding to a question about India-Japan agreement to build a bullet train corridor in the 500 km-long Mumbai-Ahmedabad corridor during the just-concluded visit of Japanese Prime Minister Shinzo Abe to India.
Japan offered $8.1 billion financing on easy terms for the $12 billion project.
"China also has high-speed railway co-operation with India. We would like to work with the Indian side to promote cooperation in the relevant area," Mr. Hong said.
Indian officials here clarified that the deal with Tokyo confined to Mumbai-Ahmedabad sector and India is open for Chinese investments in other corridors.
In addition to conducting feasibility study to build the high-speed railway track to the nearly 2,200 km-long Chennai— Delhi, an India-China consortium is also conducting a feasibility study for the 1,200 km-long New Delhi-Mumbai corridor.
Indian officials here told PTI that Japan has undertaken the feasibility study for the Mumbai-Ahmedabad corridor well before China entered the fray, offering to do the Chennai- Delhi corridor which was expected to cost over $20 billion.
India's decision to opt for high-speed trains in other corridors will depend on easy and affordable financing terms as offered by Tokyo for the first high-speed train in India, they said.
Besides improving the speed of the existing tracks, China is also training Indian railway engineers in heavy haulage and setting up of a railway university on the lines of one existing in China.
Last month, NITI Aayog Vice Chairman Arvind Panagariya during his visit to Beijing said Chinese infrastructure financing is far more expensive compared to Japan, and Beijing should match the terms.
"High speed rail is an expensive proposition. What kind of finance Chinese are willing to bring to the table is important. Japanese are bringing incredibly attractive finance to the table.
"They are offering a 40-year loan where there is no payments for 10 years and after that only 0.3 per cent a year.
So it is a highly concessional loan. Chinese are not offering anything close to that. So there is big difference what Chinese offer and that of Japanese," he had said.