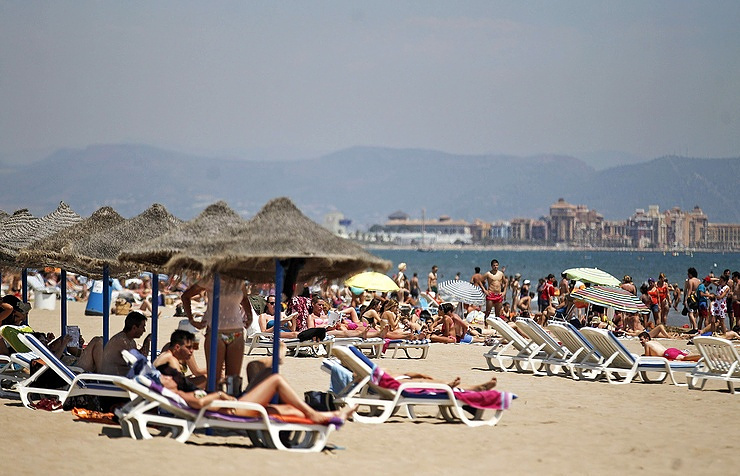 With Russian interest in the most popular foreign resorts surging in recent months, Spain has become the most popular destination for Russian travelers for the first nine months of 2016, the press service of the Association of Tour Operators of Russia (ATOR) said on Tuesday citing foreign statistics.
"Spain was the most popular destination for Russian travelers in January-September 2016. The number of Russian tourists going to Spain has risen by almost 3.3% since 2015. However, it is still below the 34% recorded in 2014," the ATOR press service said.
Other popular foreign destinations have also experienced a rise in the number of Russian tourists this year. Thailand ranks second after Spain with 704,700 Russians visiting the Southeastern Asian country in 2016 (a 2.6% increase over last year). Cyprus came in third, with 670,300 Russian visitors (a 44.5% increase over 2015). So if Thailand is still lagging behind the 2014 levels, this year, Cyprus has already beat that year's figures by 16.8%.
Turkey has maintained its fourth place ranking by the number of inbound tourists in 2016 despite the fact that the number of Russian travelers visiting Turkey has dropped 83.5% since 2015 and by 86.7 % compared to the first nine months of 2014. A total of 545,000 Russian vacationers visited Turkey in January-September 2016. The top ten popular destinations also include Bulgaria, Montenegro, Vietnam, Croatia, the Dominican Republic and Indonesia.
Russian tourist inflows into countries that traditionally offer guided tours are rebounding slower than vacation packages. Tour operators note that most Russians vacationers prefer economizing on excursions. Fewer Russians are visiting Germany, the Czech Republic, Finland, Austria and Poland.
According to ATOR, South Korea saw the biggest rise (28% or 113,200 people) in the number of Russian tourists interested in excursions in the first nine months of 2016.
Meanwhile, Russia itself has seen a 40% upsurge in the number of Chinese tourists who travel on visa-free package tours since 2016, Oleg Safonov, the head of the Russian Federal Agency for Tourism (Rostourism) said in a TASS interview.
"The Chinese make up a considerable part of inbound tourism flows with 1.12 mln Chinese entering Russia last year," the agency chief said. "The number of Chinese tourists coming to Russia – on organized visa-free group tours in particular – had doubled over the past three years. According to the Russian Committee for Statistics, the number of package tours increased by 41% in the first 9 months of 2016 compared to last year's indicators," Safonov stressed.
He added that "tourism flows from China had been on the rise over the past five years ever since the two countries conducted reciprocal years of tourism."
Russia and China signed an inter-governmental agreement on visa-free trips for organized tour groups (those who book their tours through travel agencies) in 2000.
According to Rostourism, 27 million foreign tourists visited Russia in 2015. Most of the travelers were from Poland, Finland, the Commonwealth of Independent States (CIS) and Southeast Asian states. Safonov said that Moscow, St. Petersburg, Sochi, Kazan, Novosibirsk, Ulyanovsk, the northern Vologda region, Lake Baikal, the Golden Ring of old Russian towns and Crimea were the most popular tourist destinations for foreigners.
The bulk of foreign tourists who visit Russia book package tours through tour companies. The major international tour operators, which send foreigners to Russia, are Intourist, Spectrum, Wand and Mouzenidis Intour.
"China, the European countries and the United States have a developed market of package tours, which are much cheaper and economical than individual tours. That is why most travelers from the said countries arrive in Russia together with organized tourist groups. Citizens of Belarus and other CIS countries visit Russia predominantly as individual tourists," Safonov concluded.
Crimea will preserve visa-free mechanisms for Chinese tourists in 2017 under a Russian-Chinese agreement allowing Russian and Chinese tourists to cross borders without visas, the Crimean Ministry of Resorts and Tourism reported earlier this month.
"The Ministry of resorts and tourism is preparing a list of travel operators willing to receive and service Chinese tourists in 2017," the ministry's report said adding the lists of tourism operators would be ready before the year's end.
Crimea, which became part of Russia after the March 2014 referendum, used visa-free schemes to receive the first official group of Chinese tourists in September 2016. The second group of Chinese tourists visited the peninsula a month later.