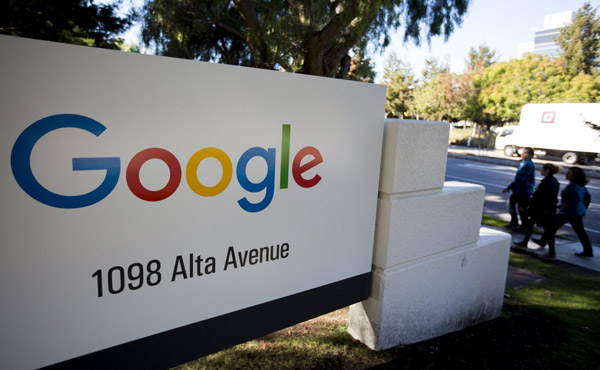 A previously unheralded shell company that Google Inc registered in Shanghai a year ago could become a key component in the United States search engine's possible reboot in China.
The company, Pengji, is registered in a high-rise office building in the China (Shanghai) Pilot Free Trade Zone, a testing ground for the central government to try out economic reforms.
According to information from the website of local authorities, the Shanghai Administration for Industry and Commerce, Google Ireland Holdings-a European subsidiary of the multinational-is listed as its sole-shareholder.
It has 5 million yuan ($780,000) in registered capital, and the site also names William A. Farris to head the firm. Farris also works for Google's Beijing office as an attorney, according to the State Bar of California, where he is a member. He did not respond to calls and e-mails sent by China Daily seeking comment.
Google, which withdrew most of its operations out of the Chinese mainland in 2010, has not confirmed or denied the earlier reports of a possible reopening.
But multiple sources who have worked with Google on projects related to its reopening said earlier that the company may announce its return in the first half of 2016.
The latest indication that Google is set to return to the Chinese mainland was in October, when the company made a rare investment in a Beijing-based artificial intelligence startup, Mobvoi, that is aiming to develop smart wearable technologies.
The amount invested in Mobvoi was not disclosed, but the companies said the firm, created by a former Google researcher, has now raised $75 million in equity financing.
Analysts, however, suggest that even Google may have already missed out on the best expansion opportunities presented in China, which is now considered the biggest Internet market using various key measures, including the number of Internet users and smartphone shipments.
Dong Xu, a researcher at industry consultancy Analysys International, said the company stands little chance of overtaking local provider Baidu Inc in the online search sector.
Beijing-based Baidu took over Google's market share after the US firm's departure.
Google is trying to unlock the smartphone market in China, where its Android operating system takes more than half of market share. Commentators also expect it to open an application store tailored for Chinese mainland users.