South Africa has signed 26 agreements with China worth R94-billion, President Jacob Zuma announced on Wednesday.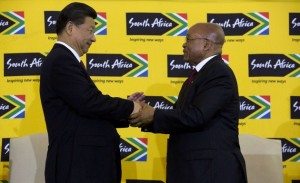 The president met with his Chinese counterpart, Xi Jinping, at the Union Buildings in Pretoria where the two leaders held bilateral talks.
President Zuma said that the two leaders had agreed that more could be done to increase trade and investment between the two countries.
"We agreed that more could and should be done to increase our trade and investment figures. South Africa has just hosted an Inward Buying Mission from China, which comprised large Chinese State owned enterprises in the areas of Agriculture and Agro-processing, Minerals, Plastics and Chemicals, Capital Goods, Automotive and related sectors. We wish to invite more inward buying missions to South Africa," President Zuma said following the talks.
The agreements will see cooperation between the two BRICS aligned countries in the realignment of industries to accelerate South Africa's industrialisation process; the enhancement of cooperation in Special Economic Zones; the enhancement of marine cooperation;
infrastructure development; human resource cooperation and financial cooperation.
The president added that the agreements would help to address the industrialisation of South Africa's economy.
"I believe that this will contribute to addressing the structure of our bilateral trade, as well as the industrialisation of our economy," President Zuma said.
"We were both satisfied about the level and extent of the cooperation that exists between our two countries with regard to the establishment of Special Economic Zones and science parks in South Africa.
"We requested China's continued support for the development of South African special economic zones and industrial parks, especially in infrastructure development and the establishment of incubation centres and specialised training institutes.
"In addition, we also proposed further engagement with China on the recapitalisation of our marine manufacturing capacity and investments in vessel construction businesses.
"We also seek to expand tourism and business interaction. We therefore welcome the introduction of direct flights between Johannesburg and Beijing by Air China."
China's President Xi will remain in South Africa to attend the Forum on Africa-China Cooperation being held in Johanneburg this week.