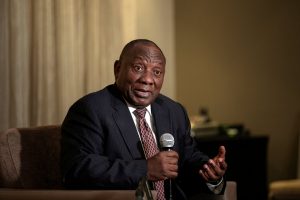 South African President Cyril Ramaphosa on Tuesday called on the BRICS countries to work to improve economic growth and better the lives of people.
Ramaphosa was speaking at the BRICS political parties plus dialogue in Pretoria, which is being attended by the ruling parties of the BRICS countries – Brazil, Russia, India, China and South Africa – African former liberation parties and other fraternal parties.
"BRICS political parties must stay ahead of the curve and inform policy decisions as leaders of the countries meet around the world. This meeting is a great inspiration to our people, let us give them hope and live up to their expectations to create a better world order," said Ramaphosa.
Ramaphosa encouraged the leaders to work towards shaping progressive perspectives to tackle global challenges. He emphasized that BRICS countries are committed to multilateralism, fair and open trade.
"We should use policy tools to achieve inclusive growth and stepping up the dialogue that must take place to increase confidence in the economic growth that the world requires," he said.
Ramaphosa said countries must seize technological advancement and use it to grow economies and change the lives of the people.
South Africa's African National Congress (ANC) Secretary General Ace Mgashule called on the countries to work together for the economic growth of their countries and improve global economy.
He said countries must not complain about each other's economic potential but appreciate their economic potential.
"Ours is to facilitate trade for the maximum benefit of the majority of the people of the world," he said.
Song Tao, Director of International Liaison Department of the Communist Party of China, also addressed the BRICS political parties plus dialogue.