JOHANNESBURG, Dec. 13 (Xinhua) — The rand's vertiginous slide over the past few days has caused concern among South Africans, prompting economists to urge new finance minister David van Rooyen to hike interest rates.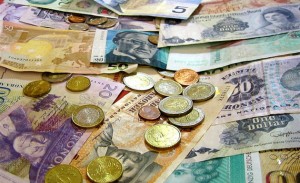 The local currency broke through the R16 barrier to the U.S. dollar, and R17 to the Euro on Friday, two days after President Jacob Zuma fired Finance Minister Nhlanhla Nene, replacing him with Van Rooyen, a largely unknown MP.
Financial experts said on Sunday that the SA Reserve Bank (SARB) has to intervene sooner rather than later to avoid any further disastrous tailspin of the local currency.
Concern has been rising that the rand will continue on the freefall trend if there is no direct intervention from the Reserve Bank.
"With the situation in the country right now, the Reserve Bank has to take action. A rate hike is required to cool the rise." said Lesiba Mothata, an economist for Investment Solutions.
The SARB is also concerned with the stubborn inflation which is predicted to go beyond the official target band of three to six percent.
The freefall of the rand is likely to "put pressure on inflation outlook," BNP Paribas Securities economist Jeff Schultz told Xinhua.
He predicted that the SARB will next month increase the interest rate by a 25-basis point.
The bank, he said, is in a hiking cycle, but a stagnating economy could make it stay its hand.
The U.S. Fed is widely expected to increase its benchmark overnight interest rate next week, and that will also put pressure on the rand, he added.
Coupled with the rand's fall, international ratings agencies last week downgraded South Africa's credit rating to one notch above junk status.
"When we changed the outlook to negative (for the South African economy), we highlighted how important prudent fiscal policy is to us," Standard and Poor warned.
The agency said it would take a "wait and see" attitude towards South Africa – giving the new finance minister a chance to show how he will navigate the fiscal policy.