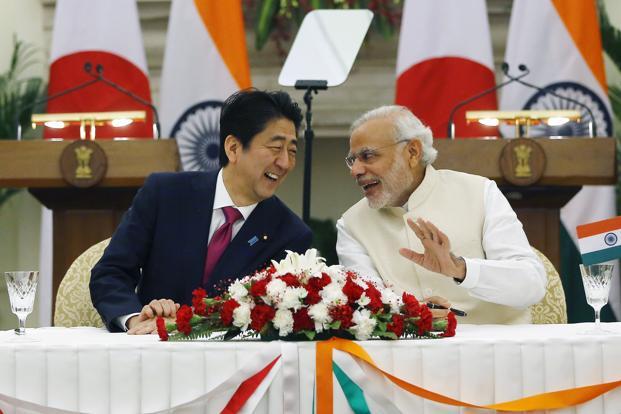 New Delhi: India and Japan on Saturday cemented their strategic partnership with the signing of a preliminary pact on civil nuclear cooperation, capping years of negotiations.
The two sides also signed agreements on sharing of technology, equipment and military information and announced that Japan will be a regular participant in the Malabar series of naval exercises that were held mainly between the Indian and US navies.
On the economic front, Japan said it will provide $12 billion of soft funding to build India's first bullet train besides another $12 billion as an incentive package for Japanese companies investing in India. As part of its overseas assistance package, Japan would lend India $400 billion yen, or $3 billion, for various projects. It will also participate in big ticket infrastructure projects in India, including the $5.5 billion Chennai-Bengaluru corridor project.
The announcements come after hour-long talks between visiting Japanese Prime Minister Shinzo Abe and Indian Prime Minister Narendra Modi in New Delhi on Saturday. Abe is in India for the annual India-Japan summit.
This is Abe's second visit to India since his re-election in 2012.
Last year, on a visit to Japan, Modi and Abe had elevated their ties to a global and strategic partnership.
A joint statement released after the talks that laid out a vision for cooperation till 2025 said: "The two prime ministers view that imperatives of a stronger bilateral strategic partnership require deep and broad-based cooperation and concrete actions in defence, security, economic and cultural fields."
"Our future-oriented partnership raises our collaboration to a new level in areas of infrastructure, manufacturing and high technology, including advanced transportation systems, civil nuclear energy, solar power generation, space, biotechnology, rare earths and advanced materials," it said.
According to analysts, India and Japan are looking to strengthen relations in a bid to balance the unpredictable rise of China as Asia's dominant power. India has an unsettled border issue with China and views its relations with Pakistan with a wary eye while Japan has territorial disputes with China apart from issues that date back to World War II. Both Modi and Abe are seen as nationalists and analysts see a parallel in the way the two leaders are trying to build up their respective economies to match China's growing economic and political clout in the Asia-Pacific region.
In his remarks on Saturday, Modi backed the Japanese position on "ensuring freedom of navigation and over-flight, and maritime commerce".
"We believe that disputes must be resolved peacefully and that all countries must abide by international law and norms on maritime issues," Modi said, against the backdrop of China imposing embargos in flights and ships from flying over or sailing close to islands disputed with Japan.
Major takeaways
One of the major takeaways from Abe's visit has been the preliminary pact on the civil nuclear deal. A text of the pact provided by the Japanese side says "the government of Japan and the government of the republic of India have reached agreement on…cooperation in peaceful uses on nuclear energy. The two governments confirm that the agreement will be signed after the technical details are finalized, including those related to the necessary internal procedures".
According to Indian foreign secretary S. Jaishankar, "We have achieved substantial progress as the key part of the agreement has been done", though legal and technical experts from both the countries have to go over it and the text has to be passed by the Japanese parliament.
Agreement on the pact had been elusive for many years given Japan's sensitivities—being the only country in the world to have suffered the consequences of being targeted by nuclear weapons. India, on its part, has stressed that it will retain its right to test atomic weapons and has refused to be bound by any international treaties limiting its options.
Yasuhisa Kawamura, spokesman in the Japanese prime minister's office, told reporters in New Delhi that India's self imposed moratorium on nuclear testing and its move separating its civil nuclear reactors from its military ones were seen as commitments by Japan to assuage its concerns on nuclear testing and non-proliferation. "Japan does not see any move by India to go towards testing of atomic weapons," Kawamura said during a press conference. Japan would, however, relook at its civil nuclear cooperation pact with India if it were to test, he said.
The pact with Japan is crucial for India's electricity generation plans as many safety and other components meant for reactors are manufactured by Japanese companies.
With India committing to steps to cut down on emissions, nuclear energy is a key component of India's energy mix, Jaishankar said.
According to Modi, the memorandum "we signed on civil nuclear energy cooperation is more than just an agreement for commerce and clean energy, it is a shining symbol of a new level of mutual confidence and strategic partnership in the cause of peaceful and secure world". Abe said Japan's cooperation with India in the nuclear field will be limited to peaceful objectives.
The second major outcome of Abe's visit was the deal to build a high-speed train line between Mumbai and Ahmedabad. The pact gives Japan a head start over China, which is conducting feasibility studies for high-speed trains on other parts of the Indian rail network. The Indian deal for Japan comes after it lost a similar deal in Indonesia to China.
"This enterprise will launch a revolution in Indian railways and speed up India's journey into the future. It will become an engine of economic transformation in India," Modi said in a speech.
According to Jaishankar, India will have to repay the loan over a 50 year-period which has been extended at an interest rate of 0.1%.
The 508km rail line will cost a total of Rs.97,636 crore and the travel time between the two railway stations is expected to be cut down to 2 hours from the current 7 hours.
Under the defence deals announced on Saturday, the two sides agreed to share technology, equipment and military information, but the long-awaited sale of Japanese aircraft in a deal worth about $1.1 billion was not concluded.
India and Japan have been holding talks for two years on the purchase by India of US-2 amphibious aircraft made by ShinMaywa Industries, which would be one of Japan's first arms sales since Abe lifted a 50-year ban on weapon exports.
Modi described the defence pacts as "decisive steps in our security cooperation," adding that they would deepen the defence relations and promote defence manufacturing in India.
The two leaders also issued a joint statement on "India and Japan Vision 2025: Special Strategic and Global Partnership Working Together for Peace and Prosperity of the Indo-Pacific Region and the World."
The statement said India would extend visa an arrival facility for Japanese nationals, including businessmen, from 1 March 2016.
"The two Prime Ministers reaffirmed the intention to develop 'Japan Industrial Townships (JITs),' with investment incentive for companies that would not be lower than under the prevailing policy framework such as Special Economic Zone (SEZ), and National Investment and Manufacturing Zone (NIMZ). Moreover, both sides will work toward evolving special packages for attracting Japanese investment in the Japanese Industrial Townships in India. The two Prime Ministers reaffirmed to further deepen bilateral economic and financial cooperation," the statement said.