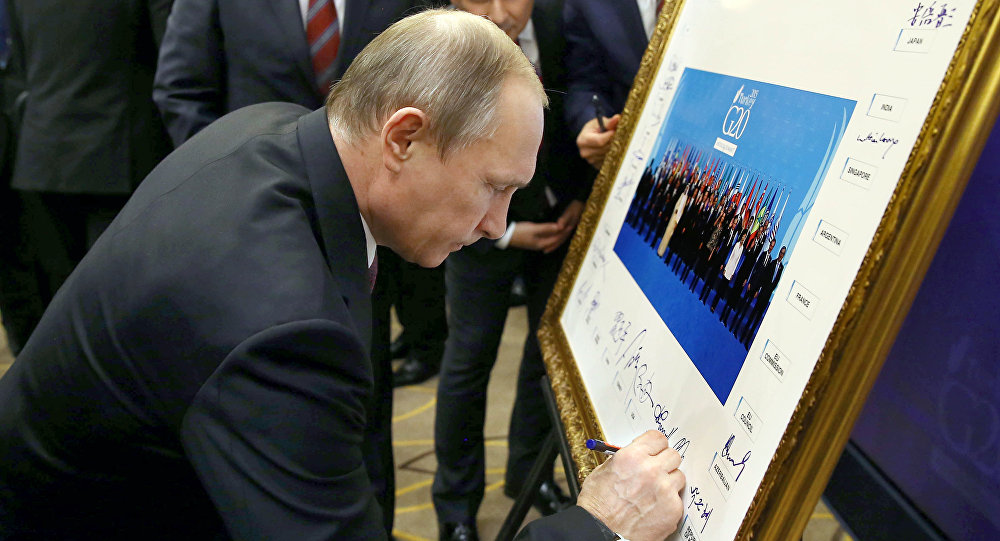 The western media seems to have ceased its campaign on reassuring its audience that Russia, and President Putin in particular, are being isolated from the western world.
"Vladimir Putin should have left the G20 summit in Antalya, Turkey, in an upbeat mood," reads an article in the US-based magazine The National Interest.
"The Russian president clearly demonstrated that on the world stage he is neither isolated nor marginalized," the author says, referring to President Putin's interactions with key global leaders, both in the multilateral format of the summit as well as in numerous bilateral sidebars.
The same was noticed by the British media, which elaborated even further.
"This all boils down to a diplomatic hat-trick for Putin," reads an article in The Guardian.
"First, he has gained western recognition that Russian military forces have a legitimate role to play in Syria, in exchange for vague promises to cooperate with the US-led coalition and not to shoot the "good guys." This marks a complete reversal of the initial American position, which was that Moscow's intervention was unwelcome and "doomed to failure."
"The Russian military is showing that it, too, can carry out some of the missions that were being conducted by the US-led coalition — without having to operate under Washington's aegis," echoes the article in The National Interest.
"Second, Obama and Cameron have been forced to accept that Bashar al-Assad, Syria's president, may stay in office, possibly for the duration of the proposed 18-month, UN-supervised Syria peace negotiation, as Putin has insisted all along," reads the piece in The Guardian.
"The regime of Bashar al-Assad has stabilized and tightened its control over those parts of Syria still under its jurisdiction. In contrast to several months ago, no analysts are now proclaiming that Assad's fall is imminent. Russian (and Iranian) support has made it impossible to dismiss Assad as a continuing relevant factor and player in Syria's future," reads the other article.
"Third, Putin appears to have succeeded in gaining tacit acceptance of the de facto situation in Ukraine," says The Guardian.
"Ukraine cannot also be reassured by signals that the so-called "Turkish Stream" pipeline —which appeared to be on the rocks even a few short weeks ago — may be back on track (albeit in a somewhat more reduced fashion and later on schedule), following Putin's meetings with Turkish president Recep Tayyip Erdogan," says the US-based magazine.
Besides, it notes, the upcoming visit of President Hollande to Moscow "has leaders not only in Kiev but in other parts of Central Europe concerned."
And even though Russia still remains under EU sanctions, both outlets note that "they must be renewed every six months — and pressure may grow for partial relaxation or suspension of these measures, if not in January, then certainly by June 2016."