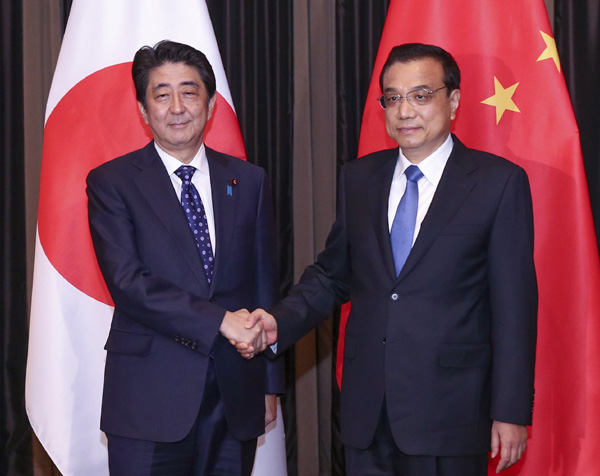 China on Monday confirmed a "brief conversation" between Chinese Premier Li Keqiang and Japanese Prime Minister Shinzo Abe in Kuala Lumpur during the East Asia Summit.
"Premier Li and Prime Minister Abe had a brief conversation on the sidelines of a series of leaders' meetings on East Asian cooperation in Kuala Lumpur," said Chinese Foreign Ministry spokesperson Hong Lei in a press release.
Li said the two countries had witnessed improvement of ties recently, adding that the improved momentum is still "fragile", according to the Chinese Foreign Ministry.
"Whether China-Japan ties continue to improve depends on whether Japan can seriously honor its commitment," Li was quoted as saying.
Li said Japan should do more to contribute to cementing mutual understanding and improving ties in order to enable improvement and growth of ties, according to the spokesperson.
On Sunday in Kuala Lumpur, China's construction on the islands and reefs in the South China Sea "should not be misinterpreted as an attempt to militarize the water body vital to global trade," Chinese Vice Foreign Minister Liu Zhenmin said at a press briefing on the sidelines of a series of regional leaders' meetings on Sunday.
China on Friday said it remained on "high alert" for intervention by Japan in the South China Sea issue, especially the country's military return to the region.
"China firmly safeguards navigation freedom of various countries in the South China Sea in accordance with international laws," Chinese spokesperson Hong Lei said, dismissing allegations that were problems with "navigational freedom" in this region.
"In the meantime, China is strongly against any country using the excuse of navigation and overflight freedom to engage in activities threatening the sovereignty and security of other nations, and facilitating regional militarization," the Chinese spokesperson added.
Japanese Prime Minister Shinzo Abe told President Barack Obama Tokyo will consider sending the country's maritime forces to back up US operations in the South China Sea.
Abe held bilateral talks with Obama on the sidelines of the APEC Summit in Manila on Thursday.
Tokyo has no claims in the waterway.
China claims about 90 per cent of the South China Sea.
Japanese Premier Shinzo Abe's policies, including increasing the defense budget, lifting a ban on arms exports, visiting a shrine that memorialises Japan's war dead, along with convicted World War II criminals and reinterpreting the pacifist constitution to allow Japan to defend other countries, have sparked concern in China and South Korea.