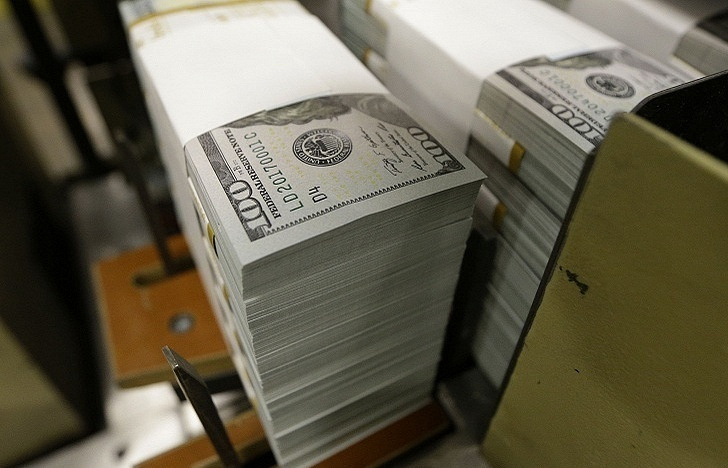 Russia's Reserve Fund decreased by 2.24% in October, to 1.991 trillion rubles ($31.4 bln), the National Wealth Fund (NWF) decreased by 1.64% to 4.541 trillion rubles ($71.5 bln), the Finance Ministry said.
The Finance Ministry said it had not transferred funds from the Reserve Fund to cover the budget deficit for the second month in a row.
In August, the ministry for the third time in 2016 transferred money from the Reserve fund to cover the budget deficit in the amount of 390 bln rubles ($6.1 bln).
In April and May, the ministry spent 390 billion rubles every month from the Reserve Fund to cover the budget deficit.
Thus, in 2016, 1.17 trillion rubles ($18.4 bln) was allocated from the Reserve Fund to cover the budget deficit. In total the Finance Ministry plans to spend 2.1 trillion rubles ($33.1 bln) from the fund in 2016.
According to the ministry, the total income from placing funds of the Reserve Fund on foreign currency accounts with the Central Bank, recalculated in US dollars, from January 15 to October 31, 2016 amounted to $ 0.21 bln, which is equivalent to 13.26 billion rubles.
The exchange rate difference from recalculating balances on these accounts for the period from January 1 to October 31, 2016 amounted to a negative value (-) 478.96 bln rubles ($7.5 bln).
As of November 1 2016, the volume of the National Wealth Fund totaled $72.20 bln. In particular $19.56 bln, €20.76 bln, £3.83 bln were placed on specific accounts in the Central Bank.
The National Wealth Fund placed 195.03 bln rubles and $6.25 bln on deposit accounts in Vnesheconombank. The Fund placed $3 bln in Ukraine's Eurobonds, 112.63 bln rubles and $4.11 bln in securities of Russian companies and 278.99 bln rubles in preferred shares of credit organizations.
Besides that 164.43 bln rubles ($2.6 bln) was placed on deposit accounts in VTB and Gazprombank to finance infrastructure projects.
The total income from the placement of the Fund's assets in eligible financial assets, with the exception of funds on the accounts at the Central Bank, from January to October 2016 amounted to 34.76 bln rubles, which is equivalent to $0.53 bln.