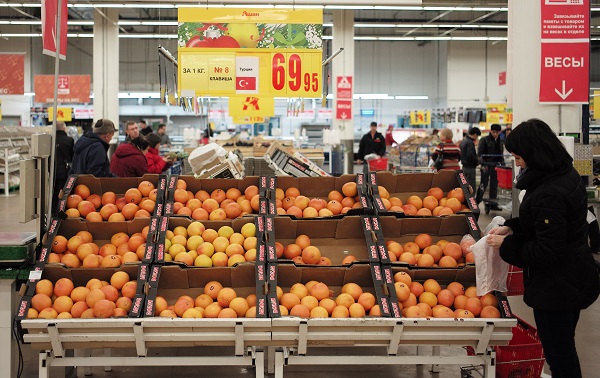 Russia has taken a series of restrictive measures against Ukraine and Turkey starting from Friday, the first day of 2016.
Russian boycott of many Turkish agricultural products and other food officially came into force on Friday.
The measures were adopted by Moscow in retaliation for Turkey's downing of a Russian Su-24 attack aircraft in November.
According to a decree signed by Putin on November 28, Russia would stop importing a wide range of Turkish agricultural products including fruit and vegetables, salt, poultry products among others.
While charter flights in both directions were banned, the visa-free travel regime between the two countries was suspended to "ensure national security of the Russian Federation from criminal and other illegal activities."
Russian companies will be banned from hiring Turkish citizens starting from Friday.
A total of 53 entities have been exempted from the ban on hiring Turkish citizens. The exempted companies will, however, be prohibited from exceeding the total number of hired Turkish employees as of Dec. 31, 2015.
Companies owned by Turkey or Turkish citizens are now also banned from providing services for state and municipal needs in Russia and participating in such sectors as construction, tourism, hotel business and lumber.
2016 could also put further strain on Russia-Ukraine ties.
Putin has signed a decree regulating transit transportation of goods from Ukraine to Kazakhstan through Russian territory, which was posted Friday on a Russian government website.
"International automobile and railway transit of goods from the Ukrainian territory to the territory of the Republic of Kazakhstan through the territory of the Russian Federation…could be carried out only from the territory of Republic of Belarus," according to the decree.
It added that all the transport vehicles carrying goods from Ukraine to Kazakh territory through Russia should be equipped with devices supporting Russia's Glonass navigation system to track their movements.
Coming into force immediately and lasting until July 1, 2016, the decree was adopted as an extra measure with the suspension of Russia-Ukraine free trade zone agreement.
The suspension also began Friday, simultaneously with Ukraine's implementation of the economic component of the EU-Ukraine Association Agreement and joining a free trade zone with the EU.
Besides trade deals, Moscow and Kiev were in dispute over the latter's $3 billion debt.
The Russian Finance Ministry on Friday announced that it planned to file a lawsuit in a UK court against Ukraine over debt default.
"Ukraine has not made the payment of 3.075 billion U.S. dollars in repayment and servicing of external bonds owned by Russia during the grace period, which expired on Dec. 31, 2015. Thus, Ukraine is in a state of default now," the ministry said in a statement.
Noting that no proposal was made by the Ukrainian side on debt restructure, the ministry still expressed readiness to examine any significant offer from Ukraine on its debt to Russia.
It also noted that the legal action does not exclude possibility of debt settlement through dialogues.
Ukraine got a $3 billion loan in the form of Eurobonds from Russia in December 2013 to shore up its economy amid financial crisis. The loan matures on Dec. 20, 2015.
The Ukrainian side stressed previously that no other terms would be provided to Moscow than the debt-restructuring agreement reached in August between Ukraine and its other international creditors.
With Russia insisting on going ahead with the restrictive measures against both Turkey and Ukraine, businesses in both the countries are expected to feel the blow.
Russia-Turkey bilateral trade stood at around $30 billion. Turkey's annual agricultural exports to Russia amount to more than $1 billion.
Turkish Prime Minister Ahmet Davutoglu has blamed Russia for these restrictive measures, claiming that Turkey has considered possible measures against Russia and will impose sanctions if necessary.