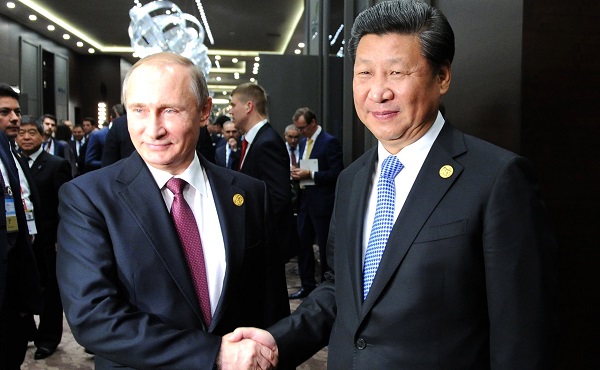 Chinese President Xi Jinping and his Russian counterpart Vladimir Putin on Thursday exchanged New Year greetings vowing to boost the "strategic partnership".
In his message, President Xi said "the China-Russia comprehensive strategic partnership of coordination was maintained at a high level in 2015".
Xi also praised the proposed integration of China's ambitious Silk Road Economic Belt with that of the Russia-led Eurasian Economic Union.
The two allies also cooperated closely on international affairs, Xi said.
The president also said high-level Sino-Russian ties have "injected positive energy into the construction of a new-type international relations featuring cooperation and win-win situation".
China and Russia signed more than 30 cooperation documents in energy, investment, finance, high technology and other areas last month during the China-visit of Russian Premier Dmitry Medvedev.
Energy giants Sinopec and Rosneft signed an MOU on oil and gas projects in eastern Siberia while CNPC and Gazprom inked an agreement on the design and construction of the cross-border section of China-Russia east-route natural gas pipeline.
China Development Bank and Russia's state corporation Vnesheconombank (VEB) also signed an agreement on a 10 billion yuan ($1.56 billion) loan.
The central banks of the two countries also signed an agreement in December to promote local currency settlements, bank card issuance, access to local-currency bond markets and credit rating partnerships.
Meanwhile, in his message to Xi on the New Year as well as the Chinese Spring Festival, "Putin noted that the outgoing year has seen a number of significant developments in relations between Russia and China. Thus, the joint celebrations of the 70th anniversary of Victory in World War II helped strengthen the traditional Russian-Chinese friendship," said a Kremlin statement.
"The Russian President stressed that he is looking forward to further constructive work to develop the entire range of Russian-Chinese ties," it added.
Russia and China have set a bilateral trade target of $200 billion by 2020.
China is Russia's biggest foreign trade partner, accounting for 11.3 per cent of Russia's foreign trade in 2014. Russia is China's ninth trade partner, with a share of 2.2 per cent in China's foreign trade in 2014.
Bilateral trade has dropped this year owing to the economic downturn in Russia and the slowdown in China.
Russia's exports to China were $19.1 billion, or down by 26 per cent. Imports from China stood at $22.4 billion, down by 32.7 per cent.
However, Chinese investment into Russian mining, agriculture sectors continue unabated.
China's cumulative investment this year in the Russian economy reached $8.7 billion as of late June 2015, or up by 11.9 per cent since June 2014.
Russia has also taken over as China's top oil supplier this year.
In the first six months of 2015, Russia's oil exports to China increased by 15 per cent compared to the same period last year.