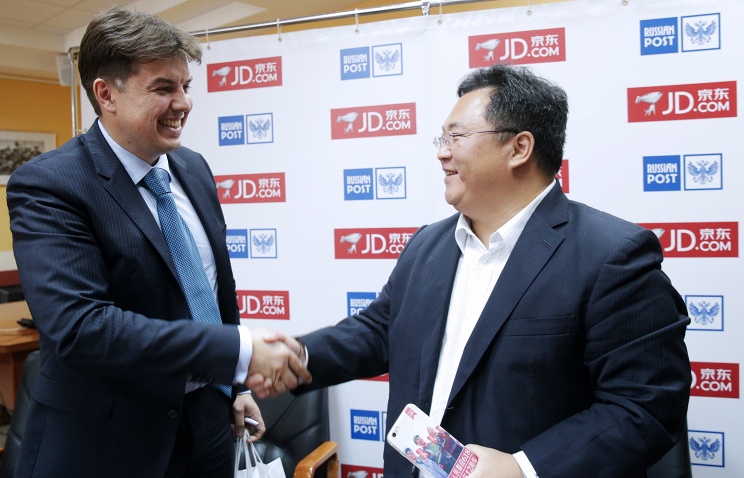 The operator will directly deliver the goods with its own grounds of one of the world's largest online stores.
The delivery of parcels from abroad will be through designated postal operators in China, Singapore and other countries.
Delivery of goods ordered on JD.com will faster than normal shipments from China, told reporters Deputy General Director of "Russian Post" Sergey Malyshev.
"The average delivery time from China to Moscow takes 7-10 days. Since the product is already in the warehouses of JD company, delivery time will be reduced," – he explained.
"Russian Post" and JD.com currently holding IT-integration, said the President of the international business Chinese company Victor Xu. Clients will be able to track the status and location of the parcel in the mobile app of the postal operator.
The share of Chinese goods in the share of "Russian Post" delivery is about 80%, said Malyshev.
In May JD.com already entered into an agreement with SPSR Express, another Russian company for express delivery. Also among the partners of JD.com in Russia are online retailer "Ulmart", internet wallet "Yandex.money" and "Qiwi".
JD.com (Jingdong Mall) was founded in 1998 and is the second largest online retailer in China after Alibaba. The company's IPO in May 2014, amounted 1.78 billion on the NASDAQ. JD.com occupies 11th place by market capitalization among public internet companies in the world.
In China the company operates over 3 million square meters of warehouses and has about 3 thousand stations of delivery. Turnover JD.com is about 60 billion dollars a year.
Russian Post is a federal post operator, is included in the Russian Federation strategic companies list. It includes 42,000 offices across the country and has one of the biggest staff – about 350,000 post workers.
Every year, Russian Post delivers over 2.5 billion letters (of them 1 billion letters are from state authorities) and some 140 million parcels. Russian Post services about 20 million subscribers in Russia by delivering 1 billion copies of print publications per year. The annual volume of transactions processed by Russian Post is 3.5 trillion rubles (pensions, payments and transfers).
In 2014, Russian Post's net profit was 1.2 billion, which is more than 50 times compared to 2013.