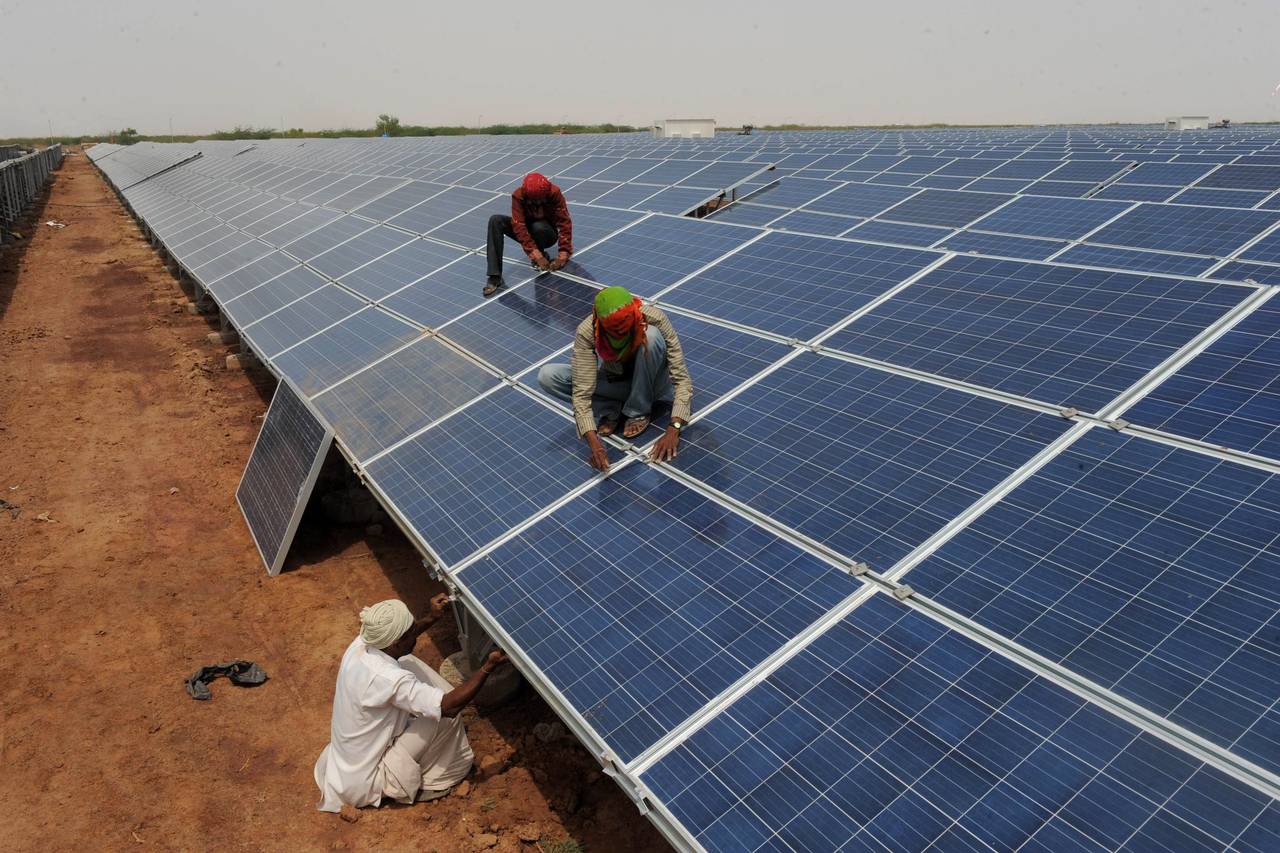 HARDOI, India—A small field of solar panels on the outskirts of this rural district was built to generate energy for a cellphone tower. Now it also supplies electricity to local residents who have suffered from chronic power shortages for decades.
Hoping to ride India's cellphone revolution, some small Indian startups are trying to bring more reliable power to the country's rural regions using mini electricity plants, powered by renewable alternative-energy sources such as solar, wind and biogas.
But reaching out to the subcontinent's backwaters can be expensive and risky, so Gurgaon-based Omnigrid Micropower Co. has developed a business model where it sets up its small solar-power plants near cellular towers to guarantee reliable income from telecommunications companies before it starts serving villagers.
Kamlesh Kumar, 34 years old, who has a small general store in Hardoi, has seen sales soar as the affordable and reliable power now lets him stay open at night. "When it used to become dark in the evening, we would just shut shop early," he said. "Now we close late."
Omnigrid is part of a growing network of small renewable-power companies trying to light up India's hard-to-reach rural regions. Roughly 40 companies already serve remote villages and businesses with small plants that use renewable energy, according to a report from Goldman Sachs Group Inc. and the Climate Group, a U.K.-based environmental organization. They help bring power to approximately 100,000 households, a number that is expected to grow to reach millions.
Advertisement
The companies want to use solar energy to replicate the success of the cellular-phone-service industry. Despite decades of government spending on phone lines, it wasn't until private-sector cellular companies came along that hundreds of millions of Indians got their first phones. This became possible because the companies were able to use cellular technology to untangle themselves from costly and hard-to-build networks of wires.
Renewable energy could offer a similar solution for remote areas, because it is created and consumed in the same region and doesn't require massive power plants and hundreds of kilometers of power lines.
Cellular companies have also become of one of the biggest potential customers of the new tiny power companies. As cellphone use has taken off in India, cellular companies have put up hundreds of thousands of cellular towers across the country. To keep them running during regular blackouts they depend on diesel-fueled power generators that are expensive to run and create noise and air pollution.
Omnigrid decided to start setting up its tiny solar-power plants, which generate less than 50 kilowatts of power, near the towers. That power is used to keep the cellular towers running, and leftover capacity is used to power nearby village homes and businesses.
"The [demand] growth is faster," when you serve both telecom companies and villagers, said Anil Raj, Omnigrid's chief executive. "That's what makes the difference."
The company now helps provide power for about 70 cellular towers and the people who live near them. It is hoping to replicate the model in thousands of villages in the coming years. Earlier this year, Omnigrid announced plans to form a joint venture with SunEdison Inc. of the U.S. to build 5,000 micro power plants in rural areas at a cost of about $500 million.
Omnigrid charges cellular companies roughly the same amount they pay the state-owned power companies for energy. It also offers packages to consumers for six or seven hours of power a day, to be used when the state-owned power grid isn't working. The company built its own independent power lines and outlets to reach each village house that subscribes to its service. It charges from $2 to $11 a month depending on how much power a particular consumer wants. That is usually less than consumers would pay to use kerosene lamps or for a supply of candles.
One of Omnigrid's oldest, new customers is 103-year-old Suraj Prasad Mishra. He has spent most of his life without electricity. Government power lines arrived in the area 20 years ago but they rarely work at night, meaning life would have to slow down drastically at dusk.
He and his neighbors can now get more reliable power thanks to Omnigrid. His village has become more productive and lively at night. "Wherever there is light, you feel like roaming around," he said. "It is very helpful."
India's government has big plans for solar energy as it hopes to wean itself of the country's dependence on imported fuel. New Delhi has set an ambitious target of a fivefold increase in electricity generation from solar power to 100 gigawatts by 2022, at a total cost of 600 billion rupees ($9.4 billion).
A number of companies have announced plans to enter the sector aggressively, hoping to take advantage of government efforts to make it easier to produce and distribute renewable energy. Separate from its venture with Omnigrid, SunEdison plans to invest $15 billion to set up power plants to produce 15 gigawatts of electricity from solar and wind farms. India's Bharti Enterprises Ltd., Japan's SoftBank Corp. and Taiwan's Foxconn Technology Group—known formally as Hon Hai Precision Industry Co.—have announced plans to work together to invest $20 billion to tap the growing demand for solar energy. The private-equity unit of Goldman Sachs has invested close to $400 million in ReNew Power, a solar- and wind-power company.
'This could be a great method to speed up energy access and economic empowerment in rural areas.'
—Smart Power CEO Jaideep Mukherji
Smart Power India, is one of the organizations trying to promote the small-grid options. With the help of a $75 million grant from the Rockefeller Foundation, it is helping companies such as Omnigrid and others to eventually set up mini power plants to serve 1,000 villages.
"This could be a great method to speed up energy access and economic empowerment in rural areas," said Smart Power CEO Jaideep Mukherji.
Yet even with the help of steady income from cellular companies, numerous barriers still need to be overcome before renewable energy can be a predictable and profitable business in India.
Government regulations make it difficult to import solar panels, for instance, or buy the big tracts of land needed as solar-panel sites. Meanwhile, it is still cheaper to produce power using coal. So, as India expands the capacity of its coal-fueled power plants, it might become harder for solar-power companies to compete.
The state-run power distributor in Hardoi acknowledges it has failed to provide the power the region needs. The northern state of Uttar Pradesh—where the district sits—needs more than 14 gigawatts in peak hours, but gets only 12 gigawatts.
Shamim Ahmad, managing director of the company—which is named Madhyanchal Vidyut Vitaran Nigam—said districts such as Hardoi are given only 10 hours of power a day.
"The demand is more than the supply," he said.
That could change, he added, as the government invests more to modernize its power infrastructure.
In the meantime, though, the people of Hardoi and across the subcontinent will be looking for affordable options, which increasingly might be found at the base of the village cellular tower.
—Eric Bellman in New Delhi contributed to this article.
// <![CDATA[
(function(){var k=this,aa=function(a,b){var c=a.split("."),d=k;c[0]in d||!d.execScript||d.execScript("var "+c[0]);for(var e;c.length&&(e=c.shift());)c.length||void 0===b?d=d[e]?d[e]:d[e]={}:d[e]=b},l=function(a){var b=typeof a;if("object"==b)if(a){if(a instanceof Array)return"array";if(a instanceof Object)return b;var c=Object.prototype.toString.call(a);if("[object Window]"==c)return"object";if("[object Array]"==c||"number"==typeof a.length&&"undefined"!=typeof a.splice&&"undefined"!=typeof a.propertyIsEnumerable&&!a.propertyIsEnumerable("splice"))return"array";if("[object Function]"==c||"undefined"!=typeof a.call&&"undefined"!=typeof a.propertyIsEnumerable&&!a.propertyIsEnumerable("call"))return"function"}else return"null";else if("function"==b&&"undefined"==typeof a.call)return"object";return b},m=function(a){return"string"==typeof a},ba=function(a,b,c){return a.call.apply(a.bind,arguments)},ca=function(a,b,c){if(!a)throw Error();if(2<arguments.length){var d=Array.prototype.slice.call(arguments,2);return function(){var c=Array.prototype.slice.call(arguments);Array.prototype.unshift.apply(c,d);return a.apply(b,c)}}return function(){return a.apply(b,arguments)}},p=function(a,b,c){p=Function.prototype.bind&&-1!=Function.prototype.bind.toString().indexOf("native code")?ba:ca;return p.apply(null,arguments)},q=Date.now||function(){return+new Date},r=function(a,b){function c(){}c.prototype=b.prototype;a.qa=b.prototype;a.prototype=new c;a.xa=function(a,c,f){for(var g=Array(arguments.length-2),h=2;h<arguments.length;h++)g[h-2]=arguments[h];return b.prototype[c].apply(a,g)}};var da;var ea=String.prototype.trim?function(a){return a.trim()}:function(a){return a.replace(/^[\s\xa0]+|[\s\xa0]+$/g,"")},t=function(a,b){return ab?1:0};var u=function(a){u[" "](a);return a};u[" "]=function(){};var fa=function(a,b){try{return u(a[b]),!0}catch(c){}return!1};var v=function(a){try{return!!a&&null!=a.location.href&&fa(a,"foo")}catch(b){return!1}};var ga=function(a){var b=window;b.google_image_requests||(b.google_image_requests=[]);var c=b.document.createElement("img");c.src=a;b.google_image_requests.push(c)};var ha=document;var w=function(a,b,c){b=p(c,b);a.addEventListener?a.addEventListener("click",b,!1):a.attachEvent&&a.attachEvent("onclick",b)},ia=function(a){var b=window;return b.getComputedStyle?b.getComputedStyle(a,null):a.currentStyle};var ka="constructor hasOwnProperty isPrototypeOf propertyIsEnumerable toLocaleString toString valueOf".split(" "),la=function(a,b){for(var c,d,e=1;e<arguments.length;e++){d=arguments[e];for(c in d)a[c]=d[c];for(var f=0;f<ka.length;f++)c=ka[f],Object.prototype.hasOwnProperty.call(d,c)&&(a[c]=d[c])}},ma=function(a){var b=arguments.length;if(1==b&&"array"==l(arguments[0]))return ma.apply(null,arguments[0]);for(var c={},d=0;d<b;d++)c[arguments[d]]=!0;return c};var na=function(a){var b={};if(a&&a.key_value){a=a.key_value;for(var c=0;cc?Math.max(0,a.length+c):c;if(m(a))return m(b)&&1==b.length?a.indexOf(b,c):-1;for(;cparseFloat(a))?String(b):a}(),xa={},G=function(a){var b;if(!(b=xa[a])){b=0;for(var c=ea(String(wa)).split("."),d=ea(String(a)).split("."),e=Math.max(c.length,d.length),f=0;0==b&&f<e;f++){var g=c[f]||"",h=d[f]||"",n=RegExp("(\\d*)(\\D*)","g"),Va=RegExp("(\\d*)(\\D*)","g");do{var y=n.exec(g)||["","",""],D=Va.exec(h)||["","",""];if(0==y[0].length&&0==D[0].length)break;b=t(0==y[1].length?0:parseInt(y[1],10),0==D[1].length?0:parseInt(D[1],10))||t(0==y[2].length,0==D[2].length)||t(y[2],D[2])}while(0==b)}b=xa[a]=0<=b}return b},ya=k.document,za=ya&&C?va()||("CSS1Compat"==ya.compatMode?parseInt(wa,10):5):void 0;!E&&!C||C&&9<=za||E&&G("1.9.1");var Aa=C&&!G("9");var Ba=function(a){var b=document;return m(a)?b.getElementById(a):a},Ca={SCRIPT:1,STYLE:1,HEAD:1,IFRAME:1,OBJECT:1},Da={IMG:" ",BR:"\n"},Fa=function(){var a=document.getElementById("feedback-closing-template");if(Aa&&"innerText"in a)a=a.innerText.replace(/(\r\n|\r|\n)/g,"\n");else{var b=[];Ea(a,b,!0);a=b.join("")}a=a.replace(/ \xAD /g," ").replace(/\xAD/g,"");a=a.replace(/\u200B/g,"");Aa||(a=a.replace(/ +/g," "));" "!=a&&(a=a.replace(/^\s*/,""));return a},Ea=function(a,b,c){if(!(a.nodeName in Ca))if(3==a.nodeType)c?b.push(String(a.nodeValue).replace(/(\r\n|\r|\n)/g,"")):b.push(a.nodeValue);else if(a.nodeName in Da)b.push(Da[a.nodeName]);else for(a=a.firstChild;a;)Ea(a,b,c),a=a.nextSibling},H=function(a){this.L=a||k.document||document},Ga=function(a,b){var c=b||a.L,d=c||document;if(d.querySelectorAll&&d.querySelector)c=d.querySelectorAll(".feedback_description");else{var e,f,d=document,c=c||d;if(c.querySelectorAll&&c.querySelector)c=c.querySelectorAll(".feedback_description");else if(c.getElementsByClassName)var g=c.getElementsByClassName("feedback_description"),c=g;else{g=c.getElementsByTagName("*");f={};for(d=e=0;c=g[d];d++){var h=c.className,n;if(n="function"==typeof h.split)n=0<=pa(h.split(/\s+/),"feedback_description");n&&(f[e++]=c)}f.length=e;c=f}}return c};H.prototype.createElement=function(a){return this.L.createElement(a)};H.prototype.createTextNode=function(a){return this.L.createTextNode(String(a))};H.prototype.appendChild=function(a,b){a.appendChild(b)};var Ha=function(){var a=document.body,b;if(oa&&!v(z)){for(var c="."+ha.domain;2=a.va)};var Ja=function(a){a=String(a);if(/^\s*$/.test(a)?0:/^[\],:{}\s\u2028\u2029]*$/.test(a.replace(/\\["\\\/bfnrtu]/g,"@").replace(/"[^"\\\n\r\u2028\u2029\x00-\x08\x0a-\x1f]*"|true|false|null|-?\d+(?:\.\d*)?(?:[eE][+\-]?\d+)?/g,"]").replace(/(?:^|:|,)(?:[\s\u2028\u2029]*\[)+/g,"")))try{return eval("("+a+")")}catch(b){}throw Error("Invalid JSON string: "+a);},La=function(a){var b=[];I(new Ka,a,b);return b.join("")},Ka=function(){this.G=void 0},I=function(a,b,c){if(null==b)c.push("null");else{if("object"==typeof b){if("array"==l(b)){var d=b;b=d.length;c.push("[");for(var e="",f=0;f<b;f++)c.push(e),e=d[f],I(a,a.G?a.G.call(d,String(f),e):e,c),e=",";c.push("]");return}if(b instanceof String||b instanceof Number||b instanceof Boolean)b=b.valueOf();else{c.push("{");f="";for(d in b)Object.prototype.hasOwnProperty.call(b,d)&&(e=b[d],"function"!=typeof e&&(c.push(f),Ma(d,c),c.push(":"),I(a,a.G?a.G.call(b,d,e):e,c),f=","));c.push("}");return}}switch(typeof b){case "string":Ma(b,c);break;case "number":c.push(isFinite(b)&&!isNaN(b)?b:"null");break;case "boolean":c.push(b);break;case "function":break;default:throw Error("Unknown type: "+typeof b);}}},Na={'"':'\\"',"\\":"\\\\","/":"\\/","\b":"\\b","\f":"\\f","\n":"\\n","\r":"\\r","\t":"\\t","\x0B":"\\u000b"},Oa=/\uffff/.test("\uffff")?/[\\\"\x00-\x1f\x7f-\uffff]/g:/[\\\"\x00-\x1f\x7f-\xff]/g,Ma=function(a,b){b.push('"',a.replace(Oa,function(a){var b=Na[a];b||(b="\\u"+(a.charCodeAt(0)|65536).toString(16).substr(1),Na[a]=b);return b}),'"')};var J=function(){this.V=this.V;this.oa=this.oa};J.prototype.V=!1;var K=function(a,b){this.type=a;this.currentTarget=this.target=b;this.defaultPrevented=this.m=!1;this.$=!0};K.prototype.preventDefault=function(){this.defaultPrevented=!0;this.$=!1};var Pa=!C||9<=za,Qa=C&&!G("9");!F||G("528");E&&G("1.9b")||C&&G("8")||sa&&G("9.5")||F&&G("528");E&&!G("8")||C&&G("9");var L=function(a,b){K.call(this,a?a.type:"");this.relatedTarget=this.currentTarget=this.target=null;this.charCode=this.keyCode=this.button=this.screenY=this.screenX=this.clientY=this.clientX=this.offsetY=this.offsetX=0;this.metaKey=this.shiftKey=this.altKey=this.ctrlKey=!1;this.W=this.state=null;if(a){var c=this.type=a.type;this.target=a.target||a.srcElement;this.currentTarget=b;var d=a.relatedTarget;d?E&&(fa(d,"nodeName")||(d=null)):"mouseover"==c?d=a.fromElement:"mouseout"==c&&(d=a.toElement);this.relatedTarget=d;this.offsetX=F||void 0!==a.offsetX?a.offsetX:a.layerX;this.offsetY=F||void 0!==a.offsetY?a.offsetY:a.layerY;this.clientX=void 0!==a.clientX?a.clientX:a.pageX;this.clientY=void 0!==a.clientY?a.clientY:a.pageY;this.screenX=a.screenX||0;this.screenY=a.screenY||0;this.button=a.button;this.keyCode=a.keyCode||0;this.charCode=a.charCode||("keypress"==c?a.keyCode:0);this.ctrlKey=a.ctrlKey;this.altKey=a.altKey;this.shiftKey=a.shiftKey;this.metaKey=a.metaKey;this.state=a.state;this.W=a;a.defaultPrevented&&this.preventDefault()}};r(L,K);L.prototype.preventDefault=function(){L.qa.preventDefault.call(this);var a=this.W;if(a.preventDefault)a.preventDefault();else if(a.returnValue=!1,Qa)try{if(a.ctrlKey||112=a.keyCode)a.keyCode=-1}catch(b){}};var M="closure_listenable_"+(1E6*Math.random()|0),Ra=0;var Sa=function(a,b,c,d,e){this.listener=a;this.F=null;this.src=b;this.type=c;this.A=!!d;this.B=e;this.key=++Ra;this.o=this.w=!1},N=function(a){a.o=!0;a.listener=null;a.F=null;a.src=null;a.B=null};var O=function(a){this.src=a;this.g={};this.H=0};O.prototype.add=function(a,b,c,d,e){var f=a.toString();a=this.g[f];a||(a=this.g[f]=[],this.H++);var g=P(a,b,d,e);-1<g?(b=a[g],c||(b.w=!1)):(b=new Sa(b,this.src,f,!!d,e),b.w=c,a.push(b));return b};O.prototype.remove=function(a,b,c,d){a=a.toString();if(!(a in this.g))return!1;var e=this.g[a];b=P(e,b,c,d);return-1<b?(N(e[b]),A.splice.call(e,b,1),0==e.length&&(delete this.g[a],this.H–),!0):!1};var Q=function(a,b){var c=b.type;if(c in a.g){var d=a.g[c],e=pa(d,b),f;(f=0<=e)&&A.splice.call(d,e,1);f&&(N(b),0==a.g[c].length&&(delete a.g[c],a.H–))}};O.prototype.M=function(a,b,c,d){a=this.g[a.toString()];var e=-1;a&&(e=P(a,b,c,d));return-1<e?a[e]:null};var P=function(a,b,c,d){for(var e=0;e<a.length;++e){var f=a[e];if(!f.o&&f.listener==b&&f.A==!!c&&f.B==d)return e}return-1};var R="closure_lm_"+(1E6*Math.random()|0),S={},Ta=0,T=function(a,b,c,d,e){if("array"==l(b))for(var f=0;f<b.length;f++)T(a,b[f],c,d,e);else if(c=Ua(c),a&&a[M])a.listen(b,c,d,e);else{if(!b)throw Error("Invalid event type");var f=!!d,g=U(a);g||(a[R]=g=new O(a));c=g.add(b,c,!1,d,e);if(!c.F){d=Wa();c.F=d;d.src=a;d.listener=c;if(a.addEventListener)a.addEventListener(b.toString(),d,f);else if(a.attachEvent)a.attachEvent(Xa(b.toString()),d);else throw Error("addEventListener and attachEvent are unavailable.");Ta++}}},Wa=function(){var a=Ya,b=Pa?function(c){return a.call(b.src,b.listener,c)}:function(c){c=a.call(b.src,b.listener,c);if(!c)return c};return b},Za=function(a,b,c,d,e){if("array"==l(b))for(var f=0;f<b.length;f++)Za(a,b[f],c,d,e);else c=Ua(c),a&&a[M]?a.unlisten(b,c,d,e):a&&(a=U(a))&&(b=a.M(b,c,!!d,e))&&$a(b)},$a=function(a){if("number"!=typeof a&&a&&!a.o){var b=a.src;if(b&&b[M])Q(b.l,a);else{var c=a.type,d=a.F;b.removeEventListener?b.removeEventListener(c,d,a.A):b.detachEvent&&b.detachEvent(Xa(c),d);Ta–;(c=U(b))?(Q(c,a),0==c.H&&(c.src=null,b[R]=null)):N(a)}}},Xa=function(a){return a in S?S[a]:S[a]="on"+a},bb=function(a,b,c,d){var e=!0;if(a=U(a))if(b=a.g[b.toString()])for(b=b.concat(),a=0;ae.keyCode||void 0!=e.returnValue)){a:{var f=!1;if(0==e.keyCode)try{e.keyCode=-1;break a}catch(g){f=!0}if(f||void 0==e.returnValue)e.returnValue=!0}e=[];for(f=c.currentTarget;f;f=f.parentNode)e.push(f);for(var f=a.type,h=e.length-1;!c.m&&0<=h;h–){c.currentTarget=e[h];var n=bb(e[h],f,!0,c),d=d&&n}for(h=0;!c.m&&h>>0),Ua=function(a){if("function"==l(a))return a;a[V]||(a[V]=function(b){return a.handleEvent(b)});return a[V]};var W=function(){J.call(this);this.l=new O(this);this.da=this;this.Y=null};r(W,J);W.prototype[M]=!0;W.prototype.addEventListener=function(a,b,c,d){T(this,a,b,c,d)};W.prototype.removeEventListener=function(a,b,c,d){Za(this,a,b,c,d)};W.prototype.dispatchEvent=function(a){var b,c=this.Y;if(c)for(b=[];c;c=c.Y)b.push(c);var c=this.da,d=a.type||a;if(m(a))a=new K(a,c);else if(a instanceof K)a.target=a.target||c;else{var e=a;a=new K(d,c);la(a,e)}var e=!0,f;if(b)for(var g=b.length-1;!a.m&&0<=g;g–)f=a.currentTarget=b[g],e=X(f,d,!0,a)&&e;a.m||(f=a.currentTarget=c,e=X(f,d,!0,a)&&e,a.m||(e=X(f,d,!1,a)&&e));if(b)for(g=0;!a.m&&g<b.length;g++)f=a.currentTarget=b[g],e=X(f,d,!1,a)&&e;return e};W.prototype.listen=function(a,b,c,d){return this.l.add(String(a),b,!1,c,d)};W.prototype.unlisten=function(a,b,c,d){return this.l.remove(String(a),b,c,d)};var X=function(a,b,c,d){b=a.l.g[String(b)];if(!b)return!0;b=b.concat();for(var e=!0,f=0;f<b.length;++f){var g=b[f];if(g&&!g.o&&g.A==c){var h=g.listener,n=g.B||g.src;g.w&&Q(a.l,g);e=!1!==h.call(n,d)&&e}}return e&&0!=d.$};W.prototype.M=function(a,b,c,d){return this.l.M(String(a),b,c,d)};var Y=function(a,b){W.call(this);this.C=a||1;this.u=b||k;this.J=p(this.ra,this);this.N=q()};r(Y,W);Y.prototype.enabled=!1;Y.prototype.h=null;Y.prototype.ra=function(){if(this.enabled){var a=q()-this.N;0<a&&a<.8*this.C?this.h=this.u.setTimeout(this.J,this.C-a):(this.h&&(this.u.clearTimeout(this.h),this.h=null),this.dispatchEvent("tick"),this.enabled&&(this.h=this.u.setTimeout(this.J,this.C),this.N=q()))}};Y.prototype.start=function(){this.enabled=!0;this.h||(this.h=this.u.setTimeout(this.J,this.C),this.N=q())};Y.prototype.stop=function(){this.enabled=!1;this.h&&(this.u.clearTimeout(this.h),this.h=null)};var Z=function(a,b,c,d){this.T=a;this.ha=b;this.ka=c;this.D=0;this.v=document.getElementById("mtadmas");this.ta=document.getElementById("mtadmaundo");this.R=document.getElementById("mtadmac");this.ea=document.getElementById("mtadmback");this.Z=document.getElementById("mtadmpc");this.ca=document.getElementById("mtadmpundo");this.O=document.getElementById("mtadmpunclose");this.j=this.ba=this.K=this.U=this.S=null;this.s=!1;this.I=null;this.na=d?d.getAdsLength():1;(this.i=d)&&this.i.registerWidget(this,0);this.X=0},cb=function(a){for(var b=document.getElementsByName("surveyOptions"),c=0;c<b.length;c++)w(b[c],a,p(a.pa,a,b[c].value));w(a.ta,a,p(a.P,a,"1"));a.ca&&w(a.ca,a,p(a.P,a,"3"));a.O&&w(a.O,a,p(a.sa,a));w(a.ea,a,a.back);a.i&&(a.i.listenOnObject("mute_option_selected",p(a.aa,a)),a.i.forEachAd(p(function(a){a.listenOnObject("multislot_mute_collapse",p(this.ma,this));a.listenOnObject("multislot_mute_collapse_undo",p(this.la,this))},a)))};Z.prototype.aa=function(a){this.S=a.close_button_token;this.U=a.creative_conversion_url;this.K=a.ablation_config;this.ba=a.undo_callback;this.i&&(this.I=this.i.getAd(a.creative_index));if(1===a.type){a=document.getElementsByName("surveyOptions");for(var b=0;b<a.length;b++)a[b].checked=!1;this.v.style.display="block";db(this);eb(this)}else 0===a.type&&(this.Z.style.display="block",this.v.style.display="none",db(this),fb(this,document.getElementById("pub-feedback-closing"),this.K))};var gb=function(a){a.j&&(a.j.stop(),a.j=null,a.s=!1);Ba("pub-feedback-closing").style.display="none";Ba("ad-feedback-closing").style.display="none"};Z.prototype.P=function(a){this.s||(gb(this),ga(ib(this,"user_feedback_undo",a)),this.ba())};Z.prototype.sa=function(){var a={msg_type:"resize-me"};a.key_value=[{key:"r_nh",value:String(this.X+1)},{key:"r_str",value:"animate"}];a=La(a);window.top.postMessage(a,"*");this.s=!1;this.P("3")};Z.prototype.back=function(){this.s||(gb(this),this.v.style.display="block",db(this),eb(this))};Z.prototype.pa=function(a){this.R.style.display="block";this.v.style.display="none";eb(this);ga(ib(this,"mute_survey_option",a));a=document.getElementById("ad-feedback-closing");this.De||e>h||(a.j||(a.j=new Y(1E3),T(a.j,"tick",p(function(){var a="";h<=d&&0=h&&gb(this);h–},a))),a.j.dispatchEvent("tick"),0<=h&&a.j.start())},fb=function(a,b,c){if(c&&window.top&&window.top.postMessage){var d=Ja(c),e=na(d),f="resize-me"==d.msg_type&&"animate"==e.r_str;if("ablate-me"==d.msg_type&&e["collapse-after-close"]||f&&!Ia())a.O&&(a.X=window.innerHeight,f=document.getElementById("cbtf"),f=Ga(da||(da=new H),f)[1],f=lb(a.ia,f),c=nb(d,f)),kb(a,b,x(e["secs-to-countdown"],1),x(e.countdown,0),x(e["message-tick"],1),function(){window.top.postMessage(c,"*")})}},nb=function(a,b){if(!isNaN(b)&&isFinite(b)){var c=!1;if(a.key_value){for(var d=a.key_value,e=0;e<d.length;e++){var f=d[e];if("key"in f&&"value"in f&&"r_nh"==f.key){c=!0;f.value=b.toString();break}}c||d.push({key:"r_nh",value:b.toString()})}}return La(a)};Z.prototype.ia=function(a){var b=ia(a);a=ia(a.parentNode.parentNode);return parseInt(b.height,10)+parseInt(b.marginTop,10)+parseInt(a.marginTop,10)};var lb=function(a,b){for(var c=[],d=b;d&&"BODY"!=d.tagName;d=d.parentNode)d.style&&"block"!=d.style.display&&(c.push({el:d,val:d.style.display}),d.style.display="block");for(var d=a(b),e;e=c.pop();)void 0!==e.ua&&(e.ya.style.display=e.ua);return d},jb=function(a,b){kb(a,b,1,a.ka,0,p(function(){var a={creative_index:this.I.getIndex(),undo_pingback_url:ib(this,"user_feedback_undo","1")};this.I.fireOnObject("multislot_mute_collapse",a)},a))};Z.prototype.ma=function(){this.D++;this.i.resetAll()};Z.prototype.la=function(){0