South Africa is bleeding jobs as falling commodity prices and increasing wage demands force mining companies to cut back on staff.
In the past two months, at least seven listed mining companies announced plans to cut as many as 10,000 jobs in Africa's most-industrialized economy. As the world's biggest producer of platinum and manganese, mining accounts for more than half of the nation's exports and employs about 440,000 people.
Weak economic growth because of power shortages, labor strikes and high wage demands are putting the government's target of creating six million new jobs by 2019 out of reach. A state report on Wednesday will probably show the unemployment rate rose to 26.5 percent in the second quarter from 26.4 percent, according to the median estimate of seven economists. That would be the highest level among 65 countries tracked by Bloomberg.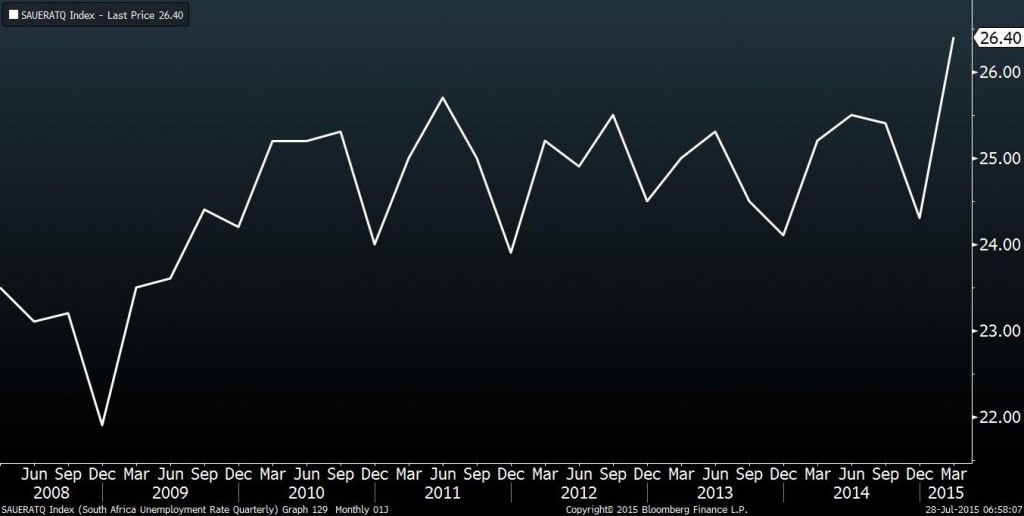 "We are heading for a jobs bloodbath," Mike Schussler, chief economist at Johannesburg-based research group Economists.co.za, said by phone on July 24. "We've already lost thousands of jobs on mining and it looks like we're going to lose more with commodity prices coming down this quickly, added to the complication of high wage settlements and higher electricity and water rates."
The government started increasing spending and employment to boost growth after the recession in 2009. State personnel costs surged 90 percent since then to 445.3 billion rand ($35.5 billion) and community and social services, which includes the state, became the biggest jobs sector in 2012.
"It is very clear that the government can't create jobs at the same pace anymore," Ettienne le Roux, an economist at FirstRand Ltd.'s Johannesburg-based investment banking unit, said by phone. "The private sector created little, if any, jobs since 2012 as the focus is now on savings, cost cutting, efficiency, economies of scale and restructuring."
Pay-raise demands in excess of inflation, which accelerated to 4.7 percent in June, are adding to the unemployment crisis. The National Union of Mineworkers, the biggest labor group at South Africa's gold mines, is seeking increases of more than 60 percent. Employers respond to higher wages by cutting back on staff, Andrew Levy, managing partner of labor-market consultancy Andrew Levy Employment, said by phone.
A strike halted most of the operations of the world's three biggest platinum producers for five months last year, ended when companies agreed to pay increases of as much as 35 percent. Lonmin Plc, the third-largest producer, plans to cut as many as 6,000 jobs, it said on July 24.