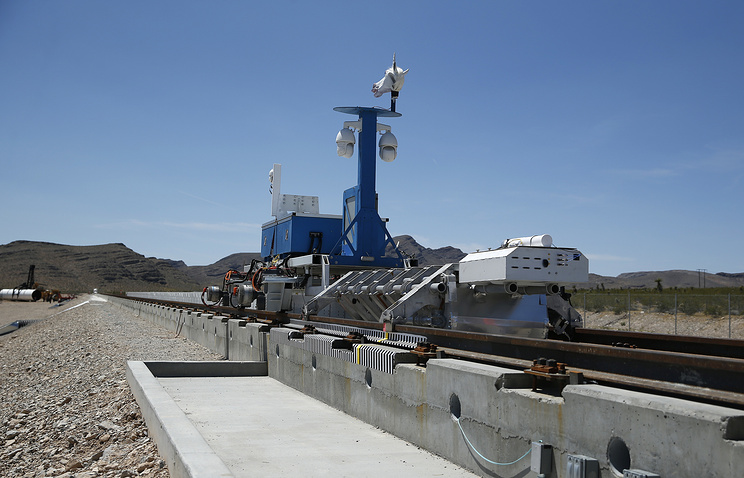 Russia's Transport Minister Maksim Sokolov will discuss the implementation of the Hyperloop project with his Chinese counterpart in August.
"I'm going to have a meeting with my counterpart, the Chinese transport minister, in August in Irkutsk where we'll try to discuss this project in particular," he told TASS at the St. Petersburg International Economic Forum (SPIEF-2016) on Friday.
According to Sokolov, the first model of the project will be presented at the Eastern Economic Forum in Vladivostok in early September.
Chinese investment in Hyperloop project
The Russian Direct Investment Fund (RDIF) may attract Chinese investment in Russia's Hyperloop project.
"We've discussed the issue with the head of the Russian Direct Investment Fund, who cooperates with Chinese investors and participates in the Russian-Chinese investment fund and also cooperates with the Silk Road Fund who said that Chinese investors may take part in the project," the minister said.
The Hyperloop train technology, an invention of billionaire Elon Musk, makes it possible to produce trains with the highest speed for a contemporary mode of ground transport.
Musk's idea consists in the fact that capsules with passengers and cargoes will move in tubes installed above the surface, in which technical vacuum will be maintained at a speed of 1,220 kilometers per hour with intervals of no more than 30 seconds. Next time the Hyperloop train will be tested in Nevada (the United States) in December 2016.
On Thursday Sokolov said the Transport Ministry would invite China to invest in the Hyperloop project in Russia.
The Russian Railways is studying a possibility of using high-speed Hyperloop trains for freight carriages. Its experts have formed a joint working group to study the technology. The Caspian VC Partners venture fund set up by Russian businessman Ziyavutdin Magomedov is the project's investor in Russia.