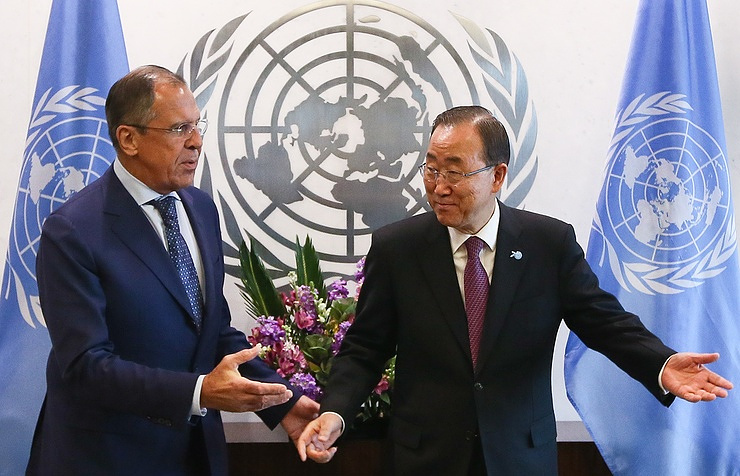 Russian Foreign Minister Sergey Lavrov's work program during the UN General Assembly's session in New York will include dozens of high-level and bilateral meetings, a source in Russia's Foreign Ministry said on Monday.
"The minister will take part in customary meetings between foreign ministers in multilateral and regional formats, including Collective Security Treaty Organization (CSTO), BRICS, Comprehensive Nuclear-Test-Ban Treaty (CTBTO), the Middle East Quartet and others. He will also participate in high-level special-related events concerning pressing issues on the sidelines of the General Assembly. A meeting with the UN Secretary General Ban Ki-moon is also scheduled."
"The upcoming session of the UN General Assembly is aimed at confirming the central leading role of the organization in world politics," Russia's Foreign Ministry stated. The UN is still the organization that has no equal in regard to its representativeness and universality, it is a unique platform for equitable dialogue in searching for and developing compromises taking into consideration different opinions and views on the basis of the fundamental purposes and principles of the UN Charter. Efforts to erode the credibility and legitimacy of the United Nations are highly dangerous, as they can lead to the collapse of the architecture of international relations."
"Given the increasing deterioration of the global situation and the spread of terrorism, we seek to combine the international community's efforts for solving new problems on the basis of international law. We see ensuring peace, regional and global stability as the key task of the UN," Russia's Foreign Ministry said. We consistently stand for the formation of a multipolar world and ensuring equal and indivisible security for all countries with unconditional respect for their sovereignty and nations' rights to determine their future."
The foreign ministry also stated that Russia would continue to defend "the principle of supremacy of international law, the UN Charter and the UN Security Council's statutory prerogatives that has the primary responsibility for the maintenance of global peace and security."
The 71st session of the UN General Assembly opened in New York on September 13. Sergey Lavrov is heading the Russian delegation. On September 23, he will address the General Assembly during the general debate.