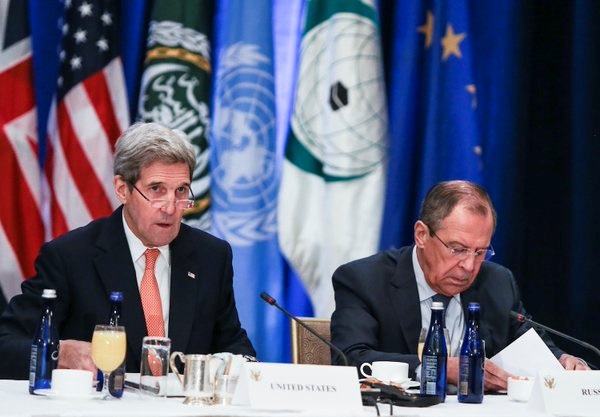 Russian Foreign Minister Sergey Lavrov has said Moscow is "ready to coordinate our military efforts with the US in Syria", but opposes "delays that enable terrorists to attack".
Al-Nusra Front, an al Qaeda offshoot in Syria, went on an offensive in Aleppo last week. The Russian military blamed the US for stalling Russian airstrikes against the terrorist group's forces in the region. The US said moderate rebel groups mingled with the terrorists in some areas and that Russia should use caution and not strike those groups by mistake.
"Russia believes that the normal opposition had ample time since February to leave areas controlled by ISIS and Jabhat-al-Nusra. Russia believes that those still in terrorist-controlled areas in Syria should blame themselves – John Kerry was clear about this," Lavrov said at a joint press conference with his Finnish counterpart.
"For many months the US has failed to deliver on its commitment to separate its loyal opposition groups from terrorists in Syria," he added.
The Syrian army crossed the boundary of Raqqa province after advancing in a major Russian-backed offensive against the Islamic State of Iraq and the Levant (ISIL) group, the pro-rebel monitor group the Syrian Observatory for Human Rights, said on Saturday.
More than 40 people have been killed and around a hundred injured by Al Nusra militants shelling in the Syrian city of Aleppo, Russian news agencies cited the Russian ceasefire monitoring centre in Syria as saying on Saturday.
"We hope the our US partners will honestly cooperate with us without seeking to implement plan B or C behind our backs," Lavrov said on Monday.
Terrorist groups Al Nusra Front and Islamic State are not part of the UN-backed ceasefire achieved in February.
Russian airstrikes and Syrian government offensive continues against the Islamic State group (IS) and Al-Qaeda linked Al-Nusra Front in the war-torn country.
The main opposition, the Syrian rebel group, along with the United States and other Western nations, has long insisted any peace deal must include Syrian President Bashar al-Assad's departure from power, while the Syrian government and Russia have said there is no such clause in the international agreements that underwrite the peace process.
Russia, along with its BRICS partners, are opposed to the ouster of Assad.