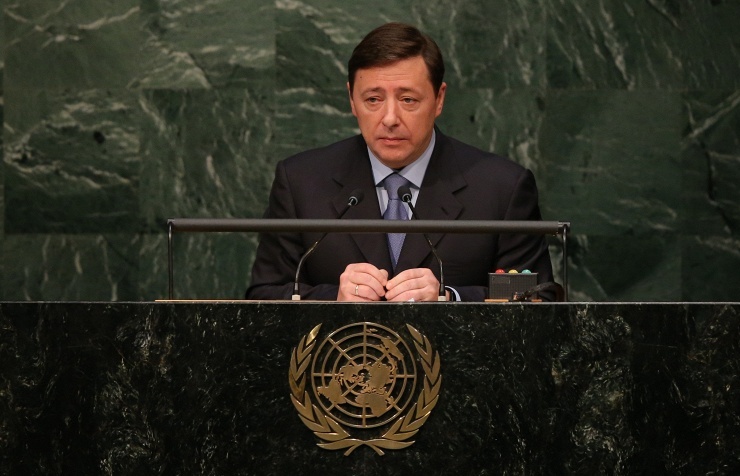 Russia signed the Paris Agreement on Climate Change on Friday. Russian Deputy Prime Minister Alexander Khloponin put his signature under the document at a ceremony held at the United Nations headquarters.
The Paris Climate Change Agreement was adopted on December 12, 2015 following the 2015 United Nations Climate Change Conference. The 195 participants in the climate change forum agreed not to allow the planet's average temperatures to rise more than 2 degrees Celsius over the pre-industrial era by 2100. Scientists believe that a more considerable temperature rise can lead to irreversible consequences for the planet's environment.
The Paris Agreement is to replace the Kyoto protocol on climate change after 2020. Fifty-five countries, which account for at least 55% of the total amount of greenhouse gas emissions, need to ratify the agreement so that it could come into force. More than 170 countries are expected to sign the document in the course of the day.
In a bid to meet its commitments on the implementation of the Paris Conference decisions, the Russian Ministry of Natural Resources and Environment has approved a plan of measures designed to cut the GHG emissions by 2020. It outlines, among other things, measures to make economic entities accountable for the amount of GHG emissions – a precondition for creating an internal Russian system for regulating these emissions.
Measures to prevent climate change meet Russia's interests. According to the Russian Ministry of Natural Resources and Environment, the warming in Russia is 2.5 times faster than on Earth on average.
Russian Minister of Natural Resources Sergei Donskoi told a news conference held at TASS on Thursday that Russia's participation in the Paris Agreement on Climate Change would stimulate the modernization of economy and production and the restoration of Russian forests.
Donskoi said that representatives of various Russian agencies and departments would start coordinating its terms and conditions together with members of the Russian business community. After that, it will be possible to ratify the document, Donskoi said.