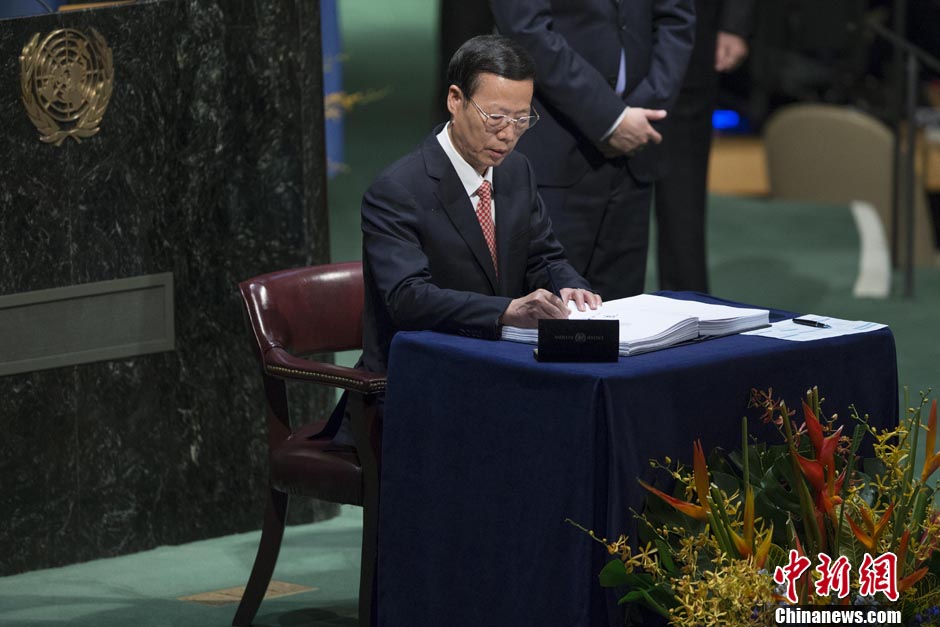 China announced here on Friday that it will finalize domestic legal procedures to ratify the Paris Agreement on climate change before the G20 Hangzhou summit in September.
The announcement was made by Vice Premier Zhang Gaoli during a high-level signing ceremony of the landmark pact at the UN headquarters, with a record 175 countries inking the international accord.
"The Chinese people honor our commitments. We will work hard to earnestly implement the Paris Agreement," said Zhang, the special envoy of Chinese President Xi Jinping to the signing ceremony.
Climate negotiators of 196 parties adopted the accord at climate change talks in Paris, France, on Dec. 12, 2015.
The agreement can enter into force 30 days after at least 55 parties that account for at least 55 percent of global emissions take the further national step of ratifying it.
At the ceremony, Zhang announced three-pronged approach China will take to curb global warming.
Besides efforts to push for an early entry into force of the Paris Agreement, China will take effective actions at home to reduce greenhouse gas emissions, he said.
"We will launch a national emission trade market, substantially increase forest carbon sink. We will put in place a strict accountability system for environmental protection and ensure the implementation of all targets," the presidential envoy said.
In its 13th Five-Year Plan, China pledged to cut carbon dioxide emissions per unit of GDP by 18 percent over the next five years, he said.
"We will control both the total energy consumption and carbon intensity," Zhang said.
He also stressed the importance of international cooperation on the fight against climate change. "China will take an active part in the follow-up negotiations of the Paris Agreement."
Meanwhile, new cooperation projects have been launched this year to help strengthen the climate financing capacity of other developing countries, he added.