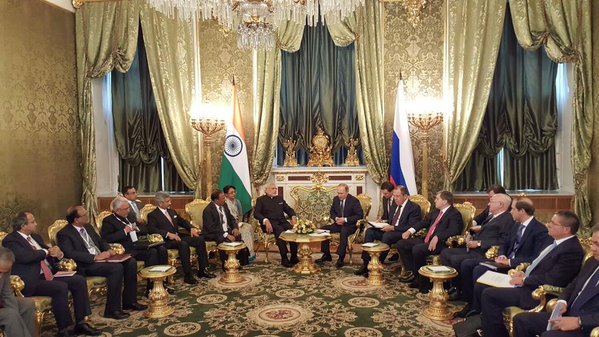 Russia and India on Thursday inked 16 cooperation agreements, including in the sector of nuclear energy, hydrocarbons, solar energy, railways and visas.
This followed talks between Russian President Vladimir Putin and Indian Prime Minister Narendra Modi at the Kremlin on Thursday.
"It is a pleasure to note that we are consistently and confidently developing the privileged strategic partnership between Russia and India. Our relations are developing in all areas: this applies to political matters and the coordination of our efforts on the international arena; it also applies to the economy and humanitarian cooperation," Putin told Modi.
Modi also lauded Indo-Russian ties, saying Russia is "a strong and reliable friend on the political and international arena".
India had earlier backed what it describes as "legitimate Russian interests in Ukraine" after Russian accession of Crimea that resulted in Western sanctions against the country.
India had abstained from voting on the UN General Assembly Resolution condemning Crimea's annexation and has also opposed the imposition of Western sanctions.
The two countries on Thursday signed a pact on "cooperation in the field of helicopter engineering".
Last week, India had already approved the purchase of five S-400 air defense systems from Russia.
Russian state nuclear company Rosatom would look at "localization of manufacturing in India for Russian-designed nuclear reactor units" according to a press statement by the Indian Ministry of External Affairs.
The two sides also urged the early finalization of a draft Joint Study Group report that is considering the feasibility of a free trade agreement between India and the Russia-led Eurasian Economic Union.
The two countries also signed memorandums of understanding (MOU) on technical cooperation in the railway sector, building solar energy plants in India, investment cooperation in Russia's Far East.
India is also looking for Russian technological aid to upgrade and modernize its Heavy Engineering Corporation Ltd. and an agreement to that effect was among the pacts signed in Moscow.
On Thursday, Indian Prime Minister Modi also praised Putin's leadership that tackled what he called "the confrontation against Russia".
"Despite the various global problems, despite the confrontation against Russia, you have raised your country, your state to a qualitatively new level. Russia proudly moves along its own development path and I commend you personal leadership in this process," Modi told Putin.
Modi will host Putin in India next summer during the 8th BRICS Summit.
"The Sides agreed to ensure, throughout the upcoming Indian presidency, continuity in the implementation of the agreements reached, further coordination of activities in the international arena, and to strengthen the strategic partnership between BRICS countries," said a joint statement released after Putin-Modi talks on Thursday.