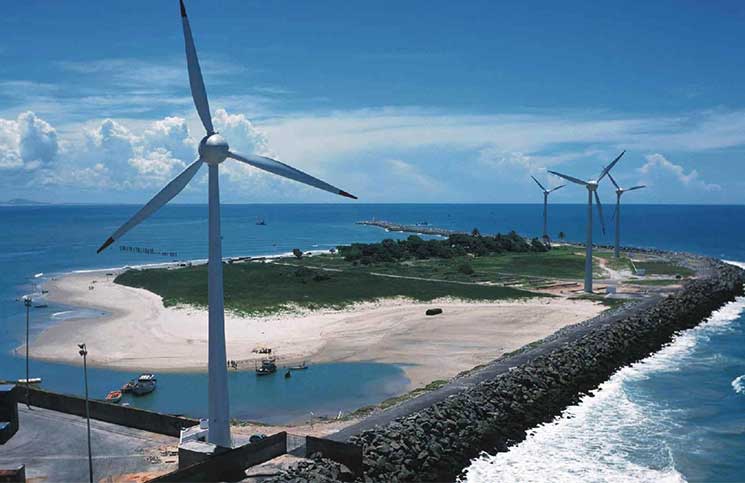 THE WINNERS
DISTRIBUTORS
Distribution companies benefited from multibillion-dollar government loans to cover higher spot-market thermopower costs amid drought. According to the central bank, distributors were also allowed to raise consumer prices by an average of 43% this year after local sector regulator Aneel introduced a new tariff system to ease the hydroelectric crisis.
CHINESE DOMINION
Chinese companies grabbed the headlines at Brazil's major power auctions in 2015. In July, Beijing-based utility State Grid was awarded a US$2.3bn contract to build an 800kV, 2,550km transmission line linking the Belo Monte hydropower plant in the Amazon rainforest to Rio de Janeiro. Due for completion in December 2019, the line is Brazil's longest transmission project.
And in November, China Three Gorges pledged US$3.57bn in sign-on fees by securing concessions to operate the Jupiá and Ilha Solteira hydroelectric plants in São Paulo totaling 5GW.
WIND SECTOR
Wind power continued its rapid ascent in Brazil, adding about 3GW of new capacity in 2015. The country's wind generation park now stands at just under 8GW, a figure that is expected to grow to 27GW by 2023, according to local wind power association Abeeólica.
THE LOSERS
HYDRO GENERATORS
Despite heavy recent rain, Brazil's hydroelectric dams remain at critical levels. Generators have been forced to resort to costly spot-market contracts from backup thermo plants to make up for a supply shortfall.
ELETROBRAS
The state-run power company has been a major target of Brazil's Lava Jato corruption probe, which began by investigating graft at national oil giant Petrobrasbut has since spread to include a number of other public and private companies. Eletrobras subsidiary Eletronuclear, has been hit particularly hard amid allegations that engineering firms paid bribes to secure contracts for its Angra 3 nuclear power project. In September, Eletronuclear suspended construction work at the plant for 90 days after hiring law firm Hogan Lovells to conduct an audit of contracts.
PLANT DELAYS
Brazil's power sector remains beset by bottlenecks, including ongoing delays to the 11.2GW Belo Monte and 1.82GW Teles Pires projects. Belo Monte, is not expected to fire its first turbine until at least February, a year later than planned. Work on the Teles Pires project, due online a year ago, has been completed but the plant remains idle due to the absence of transmission lines.
ABENGOA
Abengoa's request for preliminary creditor protection has cast doubt over the future of the company's vast Latin America project portfolio. Among the countries set to suffer most is Brazil, where unions say up to 5,000 jobs could be lost.