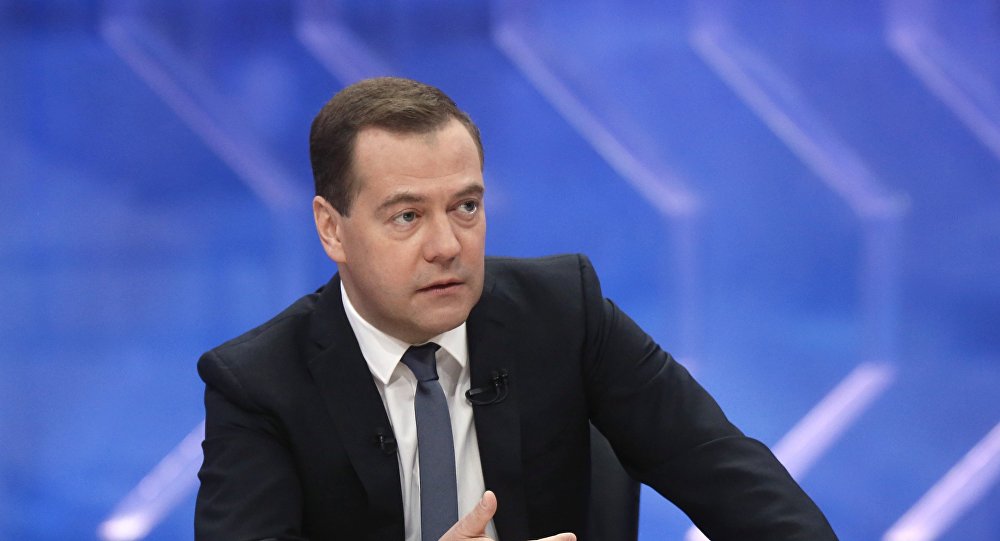 Russia and China plan to have the trade turnover grow to $200 billion within five years, given the big projects, which will be launched within several years, Russia's Prime Minister Dmitry Medvedev said in an interview with Renmin Ribao on the eve of his visit to China.
"We plan to launch major projects within several years, which will add to our trade turnover dozens of billion dollars and we shall have a stable positive trend," he said. "Our countries are facing a major objective – by 2020 to have the bilateral trade turnover reach $200 billion, and our firm intention is to fulfill the task."
"The situation in the global economy is complicated now, and this affects all countries without exceptions," the prime minister said on Sunday. "This year's tendency is falling trade turnover between Russia and China; this is explained mostly by the slump of oil prices."
At the same time, the prime minister confirmed the trade turnover's structure had changed, and now agricultural products and products with high added value are taking a bigger share in the trade.
"This favours diversification of the Russian economy, stimulates companies for more active integration in the global economy, for finding own niches in production and for approaching markets with products having high added value."
"Since 2012, has been working a mechanism of early warning on sensitive goods in mutual trade; we are finalising work on an agreement on exchange of information on goods and transport means which cross borders of the Eurasian Economic Union and China," Medvedev continued.
"We are beginning talks on an agreement on trade and economic cooperation between the Eurasian Economic Union and China; this agreement would offer favourable conditions for development of practical cooperation and for attracting long-term investments, for mechanism to ease and stimulate trade, to bring closer our practices in standards, technical requirements and customs administration regulations.".