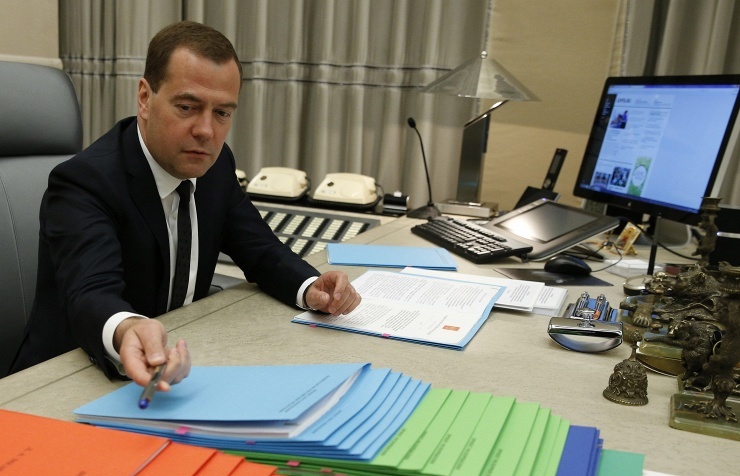 Russian Prime Minister Dmitry Medvedev said that the Russian-Chinese relations in which "there is no senior and junior, no leader and follower," are example of cooperation for other countries.
"I believe that if the relationship between so many other countries were more like the Russian-Chinese relations, the whole world this would only benefit. As the old Chinese saying goes, the best fight is the one that didn't happen," Russian Prime Minister Dmitry Medvedev said on Sunday in an interview with People's Daily ahead on the eve of his visit to China.
Medvedev used the Russian proverb: "A close neighbor is better than a distant relative." According to him, it "fully reflects the relations between Russia and China, whose total border length is an area of ··long-lasting peace, friendship and multifaceted cooperation."
Medvedev believes that "the Russian-Chinese relations of trust and strategic cooperation partnership reached historically high level." "They meet our national interests, serve as an example of the mutual neighborly co-operation and mutual respect, and work on comprehensive modernization of the two countries that live in the rhythm of the new century. There is no sphere in which Russia and China would be missing an intensive dialogue and cooperation," the Prime Minister noted.
According to him, "for several hundred years our nations have been learned to understand each other, communicating and being friends." "So according to the Chinese tradition, we can be considered old friends. And today, the multifaceted connection between Russia and China are the best in their history. This is truly mutually beneficial cooperation, which has no senior and junior, no leader and follower," Medvedev said.
He assured that Moscow "fully intends to deepen strategic partnership" with China. "And not only in the political and economic spheres. The main thing is that the people of the two countries have great interest in one another each other," Medvedev said. For example, he cited the ever-growing desire of the people of both countries to learn Russian, and Chinese.
Medvedev also recalled that "China is the largest trading partner" of Russia since 2010, "strategic projects in the energy sector are being implemented, cooperation in high-tech sectors – space, aviation, nuclear energy is being developed, as well as military-technical cooperation." In addition, "we pay lot of attention to investment and financial component of our cooperation."
According to the Prime Minister, in recent years, Russia and China, "managed to create a clear system of coordinating joint work and long-term development plans." Thus, next week the Prime Ministers will hold 20th meeting.
"We have a principle agreement on the associating integration processes within the framework of the Eurasian Economic Union with the Chinese initiative of the Silk Road economic zone. It provides additional opportunities for the formation of a common economic zone," Medvedev said.
Medvedev noted the interaction between Moscow and Beijing in international affairs, which "is global and truly strategic in nature, and has more and more importance in world politics." "Russia and China effectively cooperate in various multilateral formats, especially the United Nations, the G-20, BRICS, SCO, have a balanced and pragmatic approach to solving the most pressing problems of our time, respect the right of each people to independently choose the path of development," Medvedev said.
"We are the resolute opponents of pressuring sovereign states, including using unilateral sanctions, methods of force, or using double standards," Medvedev said.