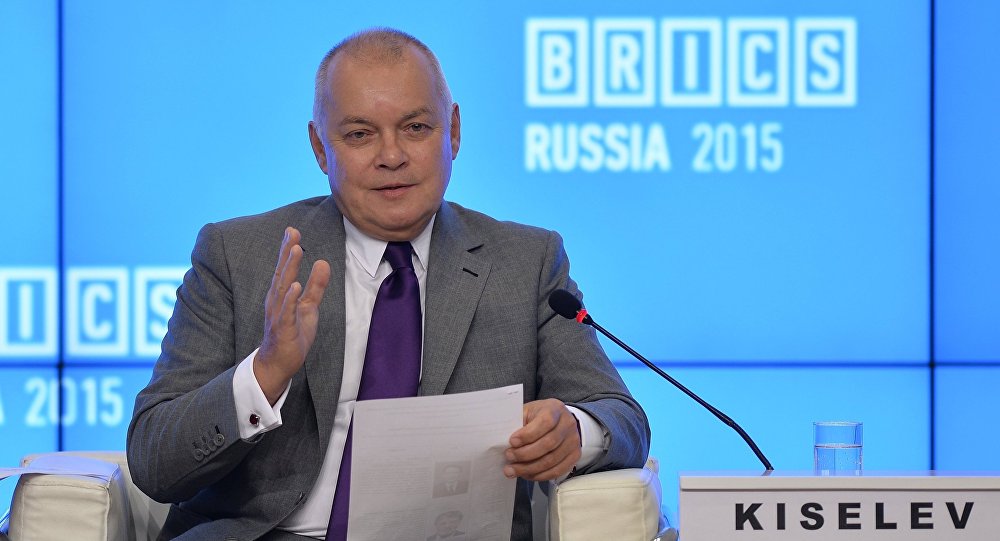 Information cooperation among the five BRICS emerging economies is of the utmost importance and must catch up with economic cooperation, Rossiya Segodnya International Information Agency Director General Dmitry Kiselev said.
"This subject is very important because, as I see it, cooperation in the field of information lags behind economic cooperation of our countries," Kiselev said at the first BRICS media summit in Beijing.
The director general said insufficient media cooperation leaves the five BRICS members dependent on third-party media sources, including those of the United States.
"As a result there are problematic interpretations to what is happening in China, India, South Africa, Brazil and of course Russia," Kiselev said.
To that end, Kiselev proposed two initiatives spearheaded by Rossiya Segodnya, including a common BRICS newswire and a BRICS radio station.
"Then we could learn first-hand what is happening in our countries," the executive said.
The BRICS Media Executive Forum hosted by Rossiya Segodnya in October focused on creating a common BRICS media space with Brazil, Russia, India, China and South Africa, he added.
Rossiya Segodnya is an international media group whose mission is to cover world events in a prompt, balanced, and unbiased manner, and provide alternative views on global issues. It combines radio broadcasts and newswires in English, Russian, Spanish, Arabic and Chinese, with news websites in dozens of languages, also producing and distributing photo and video content and infographics, information products in social media, and content for mobile apps.