NEW DELHI: As Prime Minister Narendra Modi prepares to make his second big pitch to attract investment from American companies, he will take heart from the fact that US investment in India has jumped in the past year.
Between 2011 and 2014, US FDI equity inflows into India was $2.4 billion. But between June 2014 and June 2015, US FDI into India jumped to $2.2 billion, which basically means that in one year, US investment has been the same as it was in the three years before that.
This will form a big part of his outreach to top US CEOs in New York and California.
India may not have moved too much in the ease of doing business index as the Modi government, faced with stiff protest from an unrelenting opposition, has been unsuccessful in pushing through the land acquisition act and GST. Despite this, the government is preparing a big pitch to attract US investment into India, with particular focus on manufacturing and infrastructure. And here the success of having attracted increased US investment will, India believes, speak volumes.
Time and Fortune Inc will be hosting 50 top CEOs from Fortune 500 companies for a meeting with Modi to discuss investment plans in New York. This meeting has been carefully crafted by the American hosts and the department of industrial policy and promotion (DIPP) in commerce ministry.
Modi will point to several success stories – CISCO, which has promised to invest $2 billion; Google, which is building its biggest campus outside US in Hyderabad; and Microsoft, which is planning to establish three data centres in India with an investment of Rs 1400 crore.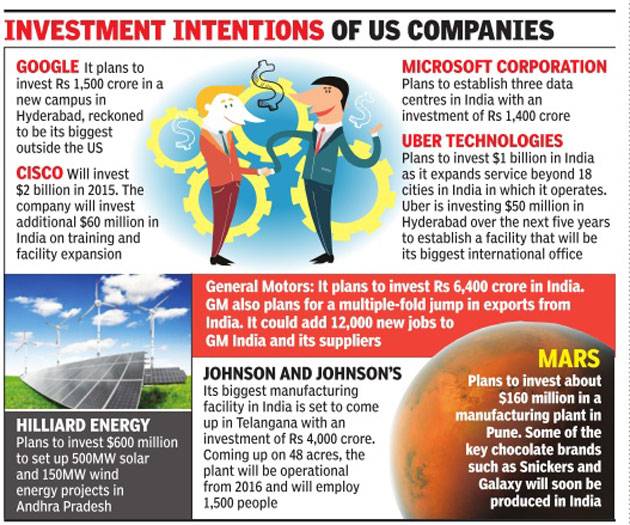 On September 21, 20 Indian and 17 US CEOs will meet for the CEOs Forum. The Indian side is led by Cyrus Mistry of Tata, while the US co-chair is David Cote of Honeywell. The Indian side was reconstituted by Modi before President Barack Obama's visit here in January. The US side, said sources, was reconstituted a few months ago.
After their January meeting, the two co-chairs have been intensively engaged in getting the Indian government to make the necessary changes in rules and regulations to ease investment and business environment in India. In fact, officials said the government has taken great pains to address the complaints of CEOs. At the start of the CEOs Forum, the Indian government plans to present an 'action taken report' to the CEOs. Commerce minister Nirmala Sitharaman will be present at the Forum meeting too.
The government is keen to show that it takes the recommendations of captains of industry very seriously. This stems directly from the interest taken by Modi himself in attracting overseas investments.
The recommendations made by the CEOs this time will feed directly into the strategic and commercial dialogue which begins on September 22 between Sushma Swaraj and Nirmala Sitharaman from the Indian side and John Kerry and Penny Pritzker from the US side.