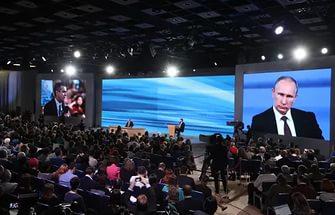 The annual press conference of Russian President Vladimir Putin has begun in Moscow. The event is traditionally taking place at the International Trade Center and is being broadcast by the key national TV channels and radio stations. This is Putin's 12th annual news conference.
A total of 1,437 journalists have been accredited, which is a record number. Apart from the Russian media, the accredited journalists include reporters from Japan, the US, China, Germany, France, Sweden, Spain.
According to Presidential Spokesman Dmitry Peskov, during the news conference Putin will focus on Russia's internal affairs.
Russia's economy 
Traditionally the Russian president started with the economic situation in the county. Russian economy will be integrated into the global economy and will not be isolated, Putin said.
"We have no plans to isolate ourselves, the Russian economy has to be part of the global economy if it prefers development, and it does prefer and will be developing in hi-tech areas," he said.
According to Putin, inflation in Russia in 2016 will be at record low level of 5.5%.
"We have to look at macro-economic indicators," Putin stressed.
GDP was down last year by 3.7%, Putin says, but predicts the fall in 2017 will be about 1%.
"The country's GDP contraction was 3.7% last year. This year there will be a slight contraction as well, but not 3.7%. We thought it was going to be around 1%, then adjusted to around 0.7% and later to 0.6%. In November, there was a slight growth of GDP and most likely for the year there will be a 0.5-0.6% contraction," Putin said.
According to Putin, a number of sectors of the economy are demonstrating expansion of production, particularly, machine building, chemical industry, consumer industry and agriculture:
"(In agriculture) there's been a serious growth. Last year (growth) amounted to 2.6%. This year the plan was to reach 3.2%, currently (growth totals) 4.1%. For the year (growth) will be at least 4%."
The economy is "developing positively," the president noted.
"Our budget deficit was 2.6% last year, in my opinion. It will be slightly higher this year. It is 2.4% for ten months but it will be 3.7%," Putin said.
"Russia sees modest growth of real wages in recent months, which gives hope for future."
Sovereign reserves in Russia remain at $100 bln, Putin said:
"We have kept our reserves. Yes, the government's Reserve Fund declined slightly, but the Russian National Wealth Fund remained virtually unchanged. The government's sovereign reserves remain at the level of $100 bln."
Russia will lift sanctions if West is ready to do the same
Moscow will lift countermeasures if European partners remove sanctions against Russia, the Russian leader said.
"As for building ties between Russia and Europe, we did not initiate the worsening of the Russian-European, including Russian-German relations, we did not impose any sanctions. The only thing is that we responded to restrictions against the Russian economy. We'll gladly agree to all liftings in case our partners, including European [partners] lift sanctions," he said.
Import substitution brings results
Putin is convinced that import substitution is bringing results and imports are decreasing.
"Import substitution is bringing results, in the industrial sector our imports reduced by 10 percentage points: if previously it was about 49% now it is 39%," the President told the annual news conference.
He added that Russia has made "very serious steps in import substitution in a number of sectors: in pharmaceutical, chemical and light industries, heavy engineering, road equipment, which is by almost 100% Russian."
"We see really serious changes in that area. Not to mention the defense sector – there are serious internal structural changes. It is especially important to reach technological independence," Putin said.
He notes some positive trends of import substitution in agricultural sector, that made it possible to slow the dynamics of inflation.
Economy minister's arrest
Putin has not got in contact with former Economic Development Minister Alexey Ulyukayev and that sufficient information was provided to him so that he could dismiss the minister due to the loss of confidence.
"I have not talked to Alexei Ulyukayev. I think that the materials provided by investigate agencies are sufficient so as to dismiss him due to the loss of confidence," Putin told reporters.
Along with this, Putin is convinced that the court's decision will be just.
"We will see what is going to happen after hearings of the case in court. Until that time, any prior conclusions are pointless and harmful," he added.
Rosneft deal and budget revenue
Appearance of representatives of foreign investors – Swiss trader Glencore and Qatar Investment Authority – in management bodies of Russian oil major Rosneft will improve governance quality of the company, President Vladimir Putin said on Friday at the annual news conference.
"We assume arrival of representatives [of foreign investors] at management bodies will improve the governance quality of the company, although it is already regarded as one of the most efficient across the globe," the President said.
Funds of privatization of the 19.5% stake in Rosneft were transferred to the budget in full scope, Putin said. "By and large, the budget received approximately 1.1 trillion rubles ($18 bln) from sale of Bashneft and 19.5% stake in Rosneft," the head of state said.
On early presidential election
The Russian president does not exclude the possibility of an early presidential election as such but he believes that such a measure would not make sense:
"It's possible but not expedient," Putin said.
As he answered a question from a Wall Street Journal correspondent, Putin first inquired with a smile: "In what country?" obviously hinting at the mixed response of US society to the outcome of the presidential race in the United States.