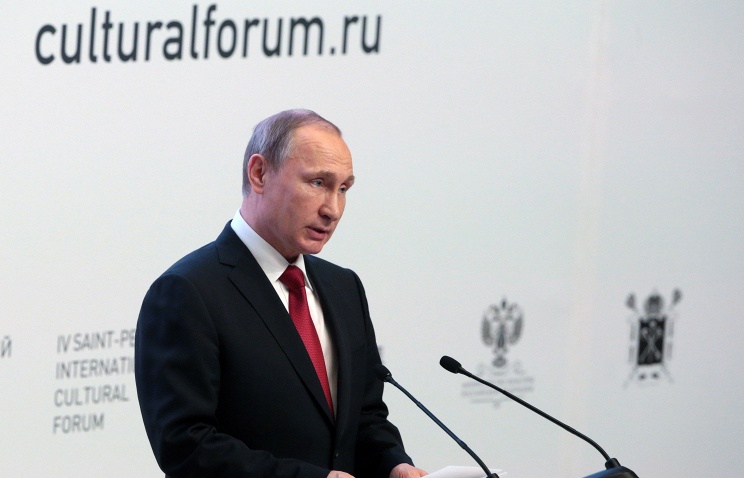 "We are ready to further build up partnership with UNESCO and we see perspectives of joint efforts in such major areas as ensuring sustainable development of the modern civilization and promoting healthy atmosphere in international relations," he said at a plenary session of the 4th St. Petersburg international cultural forum.
Putin noted that Russia was taking part in many UNESCO projects and shared its principles. Thus, he cited such programs as preservation of the world heritage, cultural diversity and national identity. "Together, we promote a closer inter-cultural dialogue, work out fundamentals of ethics underlying progress in science and technology and ensuring journalist security," he said.
"From the point of view of history, our country has been built as a civilization where each nation can preserve its ethnic and cultural identity," Putin stressed. "We are ready to share this experience, the experience of relations between traditions, languages and culture, with the entire world in an open and friendly manner."
He said the choice of venue for the forum was not accidental. "St. Petersburg boasts not only magnificent architecture and rich artistic heritage. This is a city of great history, featuring both triumphs and hardest trials. It remembers the greatest moral courage of its residents during the years of World War II and is a symbol of victory of life over death, victory of human dignity over barbarism and cruelty," Putin said.
"Another area of UNESCO activities we attach great significance to is development of fundamental sciences," he said, adding Russia and UNESCO had "a wide potential for joint work."
"Notably, along with our forum St. Petersburg is hosting a meeting of the scientific consultative council under the United Nations secretary general, a kind of council of the wise tasked to work out science-based recommendations on the most essential maters of the present-day life," he said. In his words, participants in that meeting had numerous goals "from the tasks of global development and the role of science in political decision-making to climate change."
"UNESCO may always rely on Russia as an active and concerned participant in itsprograms and projects," the Russian president underscored.
Russia to support UNESCO work
Russia will continue to support the work of UNESCO, Russian President Vladimir Putin said during a meeting with the organization's Director-General Irina Bokova on the sidelines of the 4th St.Petersburg International Cultural Forum.
The Russian leader noted that Moscow had built business-like and very good relations with the relevant United Nations organizations, including with UNESCO. "We have supported your work in every possible way and intend to support it in the future," Putin told Bokova. He thanked her for taking part in events in Russia and for the positive assessment of Russia's efforts to support culture.
"I want to assure you that this is a key area in our work, even though we realize that we are not doing enough yet. We count on your support and assistance in the future," the Russian president said.