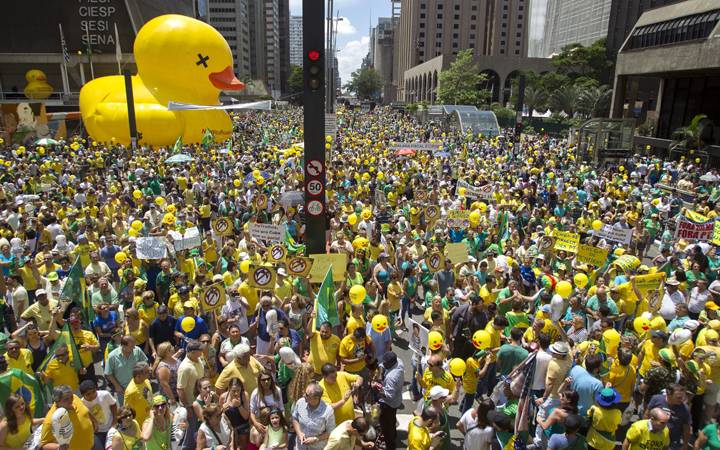 SÃO PAULO, BRAZIL – Protesters once again took to the streets on Sunday to demonstrate against the government of President Dilma Rousseff and call for her impeachment. The crowds, however, were much smaller than those seen during the protests in March and April of 2015. Pro-impeachment protests occurred in all 26 states and the capital.
Protest organizers estimated that 407,000 people demonstrated against President Rousseff and her PT party in 87 cities around the country, while police officials said that the number was more likely around 83,000. The figure was much lower than nearly 2.4 million marchers who protested on March 15th, 2015 and in the subsequent protests held in April and August.
For opposition leaders, however, Sunday's protests were supposed to be the preview of what is to come in 2016. "The movement will take off after Carnival, after the voting in the Chamber of Deputies," Congressional Representative Mendonça Filho was quoted in daily O Globo as stating.
In Rio de Janeiro, where the PT party still has a large following the crowd was small, filling up only two blocks along Rio's famous Copacabana Beach. Protesters in addition to holding signs and chanting slogans against the Rousseff Administration also called for the ousting of Chamber of Deputies President, Eduardo Cunha. Cunha is being investigated for corruption and linked to the Lava Jato (Carwash) scandal and has become one of Rousseff's strongest enemies in Congress.
In São Paulo, a giant yellow duck floated above the nearly 30,000 protesters who walked down the city's famous Avenida Paulista. Wearing yellow and green t-shirts, demonstrators protested against corruption and Rousseff's government. No violent incidents were reported in any of the cities which held demonstrations.