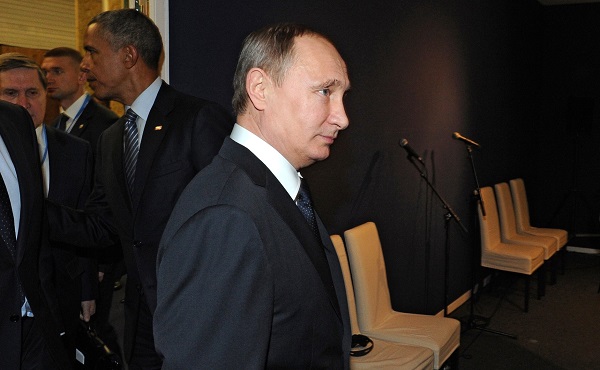 Russian President Vladimir Putin has criticised NATO's "eastward expansion" and the US-initiated missile shield in Europe under what he called "the pretext of addressing the Iranian nuclear threat".
"In 2009, current President of the United States Barack Obama said that if Iran's nuclear threat no longer existed there would be no incentive for establishing the ABM system; this incentive would disappear. However, the agreement with Iran has been signed. And now the lifting of sanctions is being considered… but the ABM system is being further developed," Putin noted referring to the July agreement between Iran and the P5+1 countries over Tehran's nuclear program in Vienna.
Putin spoke about Russian national security and conflict with the West over attempts at global unipolarity in an interview to German daily Bild published on Monday.
"In the last 20–25 years, especially after the collapse of the Soviet Union when the second centre of gravity in the world disappeared, there was a desire to fully enjoy one's sole presence at the pinnacle of world fame, power and prosperity. There was absolutely no desire to turn either to international law or to the United Nations Charter. Wherever they became an obstacle, the UN was immediately declared outdated," Putin said.
Putin also listed several recent measures taken by the US such as the signing of anti-missile agreements with Turkey, Romania, Poland, and Spain and a radar being installed in Turkey.
Moscow says Obama's earlier comments mean that with the resolution of the Iranian nuclear issue, Washington should now walk away from the missile shield plan.
Russia has repeatedly protested the expansion of the so-called US anti-missile system by NATO along Russia's borders in East Europe, calling it a direct threat to Moscow.
Washington has previously assured Moscow the shield was meant as protection from, what it termed, "rogue" states like Iran, and not directed against Russia.
Putin, in the interview published on Monday, also reminded the West of its warnings against invasions in Libya and Iraq that have now resulted in chaos and protracted civil war.
"We strongly objected to developments taking place, say, in Iraq, Libya or some other countries. We said: "Don't do this, don't go there, and don't make mistakes." Nobody listened to us! On the contrary, they thought we took an anti-Western position, a hostile stance towards the West. And now, when you have hundreds of thousands, already one million of refugees, do you think our position was anti-Western or pro-Western?" Putin asked.
Russia's Foreign Ministry said on Saturday Moscow is concerned by "the worsening situation, in particular in the political and military sphere" in Libya.
The Islamic State has claimed responsibility for a suicide truck bombing on a Libyan police training centre on Thursday that killed at least 65 people, in the worst such attack since the fall of Muammar Gaddafi in 2011.
Meanwhile, Europe is struggling to relocate the staggering number of refugees fleeing war and terrorism in countries like Syria.
A report given to EU leaders at their end-of-year summit last month in Germany states that only two of the 11 refugee reception "hotpots" Europe hoped to get up and running this year are working. Less than 1 per cent of the 160,000 migrants the European Union agreed to relocate have been.