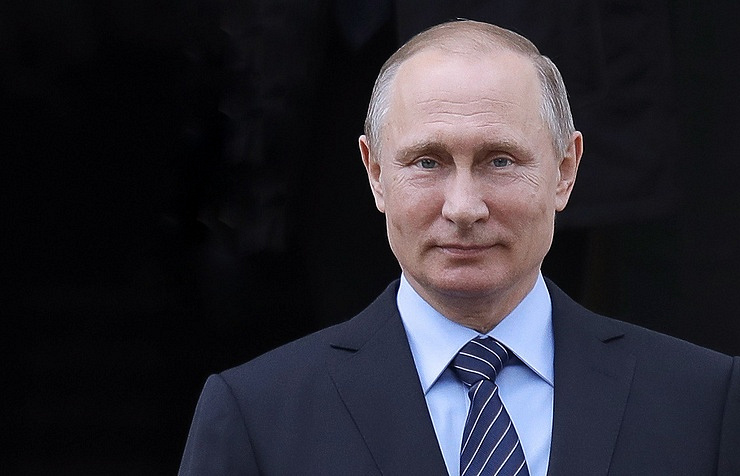 Russia's President Vladimir Putin expects quicker implementation of the Yamal LNG project as well as new big projects with foreign participation in the Arctic.
"I hope the pace of the [Yamal LNG] project will increase, and all our plans would be carried out of course," he said during the ceremony of naming the Christophe de Margerie gas tanker.
"And, of course, I hope the richest Arctic region will have new large-scale promising projects, including in cooperation with our French, Chinese and other foreign counterparts."
The president said, the Yamal LNG project is important not only for Russia, but it is an input in development of the global energy, as it favors successful development of the global areas, forming demand for new technologies and hydrocarbons' transportation, thus offering new jobs.
Putin stressed achievements of Total's former head Christophe de Margerie, whose name is given to a new gas tanker. The president called him "an oldest and biggest friend of this country."
"He [de Margerie] had a specific strategic vision, he made a lot for improvement of friendly, partner relations with Russia, favored implementation of many major joint projects in the energy sphere," Putin said, adding giving his name to the tanker "is another symbol of our sincere, kind attitude to that outstanding person and a tribute to his memory."
The Christophe de Margerie is a pilot vessel of a series, comprising 15 tankers for year-round transportation of liquefied natural gas in complicated conditions of the Kara Sea and Ob Bay – under the Yamal LNG project. The tanker was commissioned on March 27, 2017. Its owner is the Sovkomflot Company. The vessel is a unique Arc7 ice-class vessel designed especially for the Yamal LNG project. It may break ice up to 2.1 meters thick.
The tanker's crew is 29 people, all of them are Russian nationals. The tanker can work along the Northern Sea Route westwards from the Sabetta port all the year round, and for six months – in the eastward direction.
The forum 
More than 14,000 participants gathered at the St. Petersburg International Economic Forum 2017 according to preliminary estimations, 386 agreements for around 2 trillion rubles ($35.32 bln) were signed at the forum, Presidential advisor Anton Kobyakov said at a press conference on the results of the SPIEF-2017.
"The number of agreements signed at the forum is increasing from year to year. As of 8:00 on June 2, 386 investment agreements and memorandums were signed for a total of around 2 trillion rubles [$35.32 bln]," Kobyakov said.