Prime Minister Narendra Modi, along with President Pranab Mukherjee have launched Imprint India, a platform to give boost to scientifuc research within the country, especially in sectors where there is dependance on foreign countries.
Imprint India, a Rs 1,000 crore project, will serve as a platform to receive research proposals from various institutes in the county, and screen them for approval if deemed worthy. The platform will then allot funds for the research work.
Modi said, "science is universal, but technology has to be local".
Imprint India, an Inter Ministerial Group, will also help India develop affordable technology.
In a tweet, the Prime Minister said,

The idea of launching 'Imprint India' originated during the conference of Chairmen, Board of Governors and Directors of Indian Institutes of Technology convened by the President at Rashtrapati Bhavan on August 22, 2014.
It is based on the Prime Minister's suggestion that research done by institutions of national importance must be linked with immediate requirements of the society at large.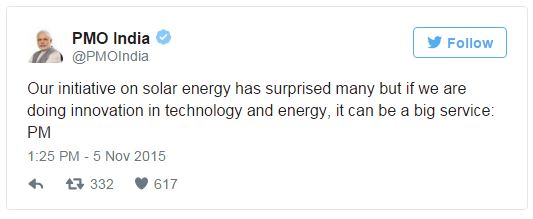 The objectives of this initiative is to identify areas of immediate relevance to society requiring innovation, direct scientific research into identified areas, ensure higher funding support for research into these areas and measure outcomes of the research effort with reference to impact on the standard of living in the rural or urban areas.
IMPRINT India will focus on ten themes with each to be coordinated by one IIT/IISc, namely health care (IIT Kharagpur), computer science and ICT (IIT Kharagpur), advance materials, (IIT Kanpur), water resources and river systems (IIT Kanpur), sustainable urban design (IIT Roorkee), defence (IIT Madras), manufacturing(IIT Madras), nano-technology hardware (IIT Bombay), environmental science and climate change ( IISc, Bangalore) and energy security (IIT Bombay).
The ten coordinating institutions have done extensive consultations and arrived at specific themes in each area of research that has immediate social relevance.
While speaking at the event, Modi stressed on the importance of skills for the Make in India initiative.

IMPRINT India was launched during the Visitor's Conference so that wide discussion could be held amongst the academic community, leading to further scientific collaboration between various institutions in these areas.
The top research community from across Central Universities, IITs, NITs, IISc, Bangalore, IISERs, IIITs, NIPERs, NIFT, IIEST, Shibpur, RGIPT, Rae Bareli, RGNIYD, Sreperumbudur, School of Planing and Architecture Bhopal and New Delhi and senior government officials attended the function.