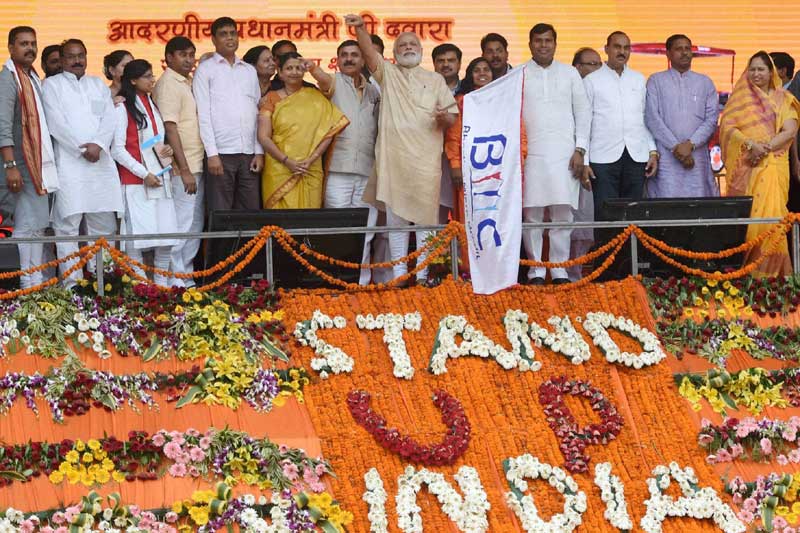 NEW DELHI: Prime Minister Narendra Modi on Tuesday launched the Stand up India scheme to enable Scheduled Castes, Scheduled Tribes and women entrepreneurs to access loans, setting a target of creating 2.5 lakh such entrepreneurs across the country.
Under the scheme 1.25 lakh bank branches will provide loans up to Rs 1 crore. Each branch will be required to provide two such loans ranging from Rs 10 lakh to Rs 1 crore without collateral for setting up a new enterprise.
The PM said it is not possible for the government to provide jobs to everyone. The scheme will convert "job-seekers into job creators," he said. "This scheme is going to transform the lives of people from dalit and tribal communities," Modi said. Stand up India, he said, aims to empower every Indian and enable them to stand on their own feet. The scheme was announced by Modi in his Independence Day address last year.
At a function in Noida in Uttar Pradesh that also marked the birth anniversary of dalit leader and former Deputy Prime Minister Babu Jagjivan Ram, the PM also flagged off 5,100 e-rickshaws. Without naming anyone, Modi said that while poor people are generous and honest some rich borrowers look for ways to flee after taking loans.
"This nation has seen the generosity of poor. Rich borrowers look for ways to run away after borrowing money from banks," he said.
Modi said that Prime Minister's Jan Dhan Yojana encouraged people to open zero-balance account but they depositedRs 35,000 crore.
"Look at their honesty, their self-respect. They opted to put money into their accounts…Rs 50, 100, 200. The deposits exceeded Rs 35,000 crore. This is the generosity of our poor people," Modi said. Finance Minister Arun Jaitley said his ministry, which is usually associated with big business houses, in the last two years has tried to work for the betterment of the poor people. He recalled various schemes of the government like Jan Dhan Yojana, insurance and pension and MUDRA Yojana to promote financial inclusion with the view to empower the poor.
Under the Stand up India scheme people from Scheduled Castes and Scheduled Tribes, and women entrepreneurs, will get support such as pre-loan training, facilitating loan, factoring and marketing. There will be a Rs 10,000 crore refinance window through Small Industries Development Bank of India (SIDBI) and the National Credit Guarantee Trustee Company Ltd (NCGTC) will create a corpus of Rs 5,000 crore.
SIDBI will engage with the Dalit Indian Chamber of Commerce and Industry and various other institutions to take the scheme forward. The offices of SIDBI and National Bank for Agriculture and Rural Development will be designated 'Stand Up Connect Centres'.