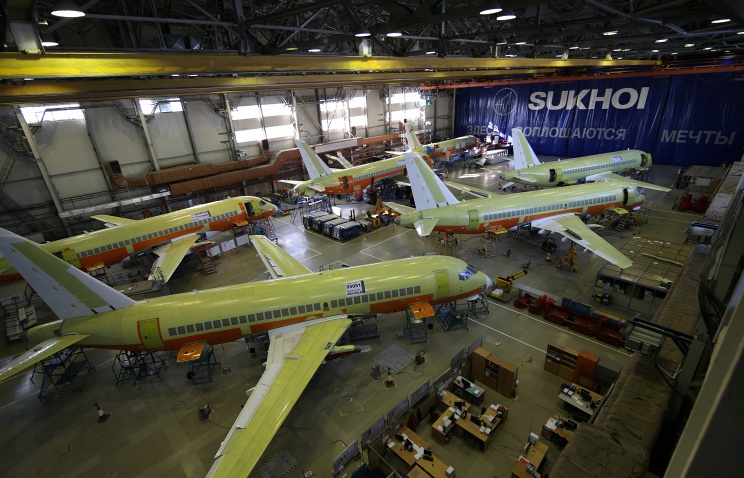 Morocco may buy up to 20 SSJ-100 aircraft from Russia and also shows interest in MS-21 liner and the Russian helicopters, Deputy Industry and Trade Minister Viktor Evtukhov said on Tuesday.
"As for the Sukhoi company they are ready to buy from 12 to 20 aircraft. As for helicopters and MS-21 the negotiations are still underway," he said in an interview with Rossiya 24 TV channel.
Evtukhov said that SSJ-100 may become part of the fleet of Royal Air Maroc airline.
The deputy minister said that during the negotiations with the Moroccan side, he dared to ask them to consider a possibility of purchasing Russian aircraft out of competition.
"It looks like our prospects are good there," he said.
"When I spoke about the advantages of the Sukhoi aircraft their interest was very high. Right now the United Aircraft Corporation is in very intensive talks with Morocco," the official said.
The Sukhoi Superjet 100 is a modern fly-by-wire twin engine regional jet. Its development was initiated in 2000. The airliner was designed and spearheaded by Sukhoi, a division of the Russian civil aerospace company /UAC/ in co-operation with several foreign partners.
Designed to compete internationally with its An-158, Embraer and Bombardier counterparts, the Superjet 100 claims substantially lower operating costs, at a lower purchase price of $35 million.
SSJ-100 is used by Russian flagship Carriere Aeroflot, its subsidiary Donavia company, as well as by the Yakutia airline and Red Wings airlines.