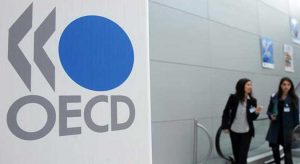 The Brazilian economy is likely to grow 2.1 percent next year. This is the forecast made for the country's gross domestic product made public Wednesday (Nov. 21) by the Organization for Economic Co-operation and Development (OECD). The estimate is lower than the one released by the organization in September—2.5 percent.
For 2018, OECD retained its 1.2 percent estimate. In 2020, the organization predicts a growth of 2.4 percent in Brazil.
Brazil's economic expansion is believed to gather momentum in 2019 and 2020 as private consumption, coupled with improvements in the labor market, increases.
The organization also expects credit to recover and political security to increase after the beginning of the new administration. However, OECD says that political uncertainties over the implementation of overhauls still loom large and may get in the way of a recovery; but the international body added that, if doubts are dispelled and reforms advance as expected, investment is likely to grow stronger.